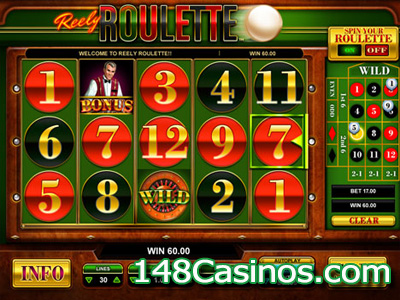 Virgin Casino has announced the launch of an exciting new roulette themed 30 pay line online slot game titled Reely Roulette.
Reely Roulette Slot offers players a regular roulette game as a side bet as well as in the bonus game, other than the normal slot game.
Symbols on the reels of the Reely Roulette slot game include the numbers 1 to 12, which display the same color as what is on the roulette layout and when three or more numbers appear from left to right players will be paid out in the usual slot game manner.
The highest line payout is offered by the number 1 while the number 12 offers the lowest line payout. The wild symbol is the roulette wheel symbol that substitutes for all other symbols with the exception of the bonus symbol. Five of these wild symbols appearing on an active pay line will trigger a jackpot line payout of 10,000 coins. Two or more appearing from left to right will result in the wild symbol starting to pay off.
Players can enable or disable the Spin Your Roulette feature which is an optional side bet. The Multiple Wheel Roulette Bonus is triggered by three Bonus Symbols appearing on reels 2, 3 and 4 and awards players with 3, 4 or 5 wheels for a full roulette game after they have chosen a chip. Twelve chips are placed on the board to obtain one simultaneous spin for all the wheels.
Virgin Online Casino is licensed by the Alderney Gaming Control Commission.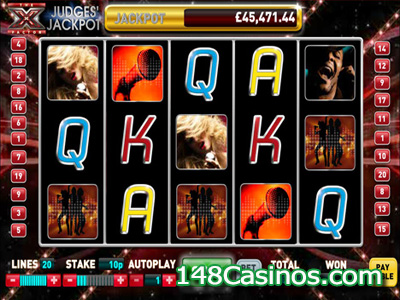 Virgin Casino has announced that it has launched two new progressive jackpot online games, bringing the total number of progressive jackpot titles offered by the online casino to 38.
The first new progressive jackpot slot is titled The X Factor Judges' Jackpot Slot and is based on the popular television show The X Factor.
The progressive jackpot is hit on Virgin Casino's new five- reel and twenty pay line slot machine when five golden X symbols appear on any enabled pay line. Players are required to wager the maximum bet of GBP 2 on any one pay line or more in order to qualify for the full progressive jackpot amount. A wager of less than GBP 2 on any pay line will see players qualify for a percentage of the full progressive jackpot amount if it is hit. The progressive jackpot on The X Factor Judges' Jackpot currently stands at GBP 914,742.
The symbols on the reels of this progressive jackpot slot is themed around The X Factor television show and includes a man singing, a woman singing, a group singing and a microphone. Players have a chance to enter the bonus game on the second screen by getting a bonus studio symbol on the first reel on an enabled line.
The other new progressive online slot game launched by Virgin Casino is titled Fireworkz Blitz and players are required to match five or more of the same firework one after the other in a horizontal or vertical line which will result in them exploding in order to enable more fireworks to rise in its place.
Leading online casino, Virgin Casino is part of the Virgin Group which is one of the biggest and well known companies in the world.
The online casino, which is partially powered by Microgaming, has announced that it is currently running a short slots promotion at the site giving players the opportunity to win up to GBP 650 this week.
Members wishing to participate in this promotion, which is titled the Golden Staircase promotion, are required to try their luck on selected slot games offered by Virgin Casino. The online casino has advised players that the more they play, the higher the bonus earned by them will be.
The Golden Staircase promotion commences today, Monday, October 15 and will continue until Friday, October 19 during which time players are assured of lots of great slots action.
Lucky players will be awarded with prizes as set out below –
Play through GBP 100 – Earn GBP 5 bonus
Play through GBP 500 – Earn GBP 10 bonus
Play through GBP 2,500 – Earn GBP 50 bonus
Play through GBP 3,500 – Earn GBP 70 bonus
Play through GBP 5,000 – Earn GBP 100 bonus
Play through GBP 7,500 – Earn GBP 150 bonus
Play through GBP 10,000 – Earn GBP 220 bonus
Play through GBP 12,500 – Earn GBP 300 bonus
Play through GBP 15,000 – Earn GBP 360 bonus
Play through GBP 17,500 – Earn GBP 430 bonus
Play through GBP 20,000 – Earn GBP 500 bonus
Play through GBP 25,000 – Earn GBP 650 bonus
The online casino has chosen dozens of slots games to take part in this promotion which includes many exciting games from Microgaming.
Members playing on each of the daily promotions running at Virgin Casino during the period of the Golden Staircase promotion will receive a special Thursday Rocks bonus as well as a 10% boost to their play through total.
Blue Monday's code is BLUEMON
Cash Pot Tuesday's code is TUESPOT
One Tonne Wednesday's code is WED100.
Players requiring details of all the special offers and promotions available can find them at Virgin Casino.
Virgin Online Casino, one of the UK's leading online casinos, has been offering its players a great start to the week all of this month by running a great promotion titled the Blue Monday promotion. The online casino has been awarding players up to GBP 15 in free cash for merely playing the popular slot and casino games at the site on Mondays.
The online casino is reminding players that there is still another Monday left this month thus giving them a final opportunity to take advantage of a Blue Monday bonus on Monday, June 25th.
Players wishing to participate in this promotion are required to log in to their account at Virgin Casino on Monday, 25th June and enter the BLUEMON code. Thereafter players should make a deposit of a mere GBP 5 which must be played through 20 times on a large list of eligible games.
The Blue Monday promotion includes titles from leading online casino software provider Microgaming's Rhyming Reels, Tomb Raider, Thunderstruck ll and games from other providers such as Ironman and Fantastic Four slots.
Players who have not yet opened an account with Virgin Casino and would like to participate in the great promotions currently running at the site are being offered a very appealing offer of a 100% welcome bonus. By opening an account and depositing only GBP 5, Virgin Casino will increase their deposit up to GBP 100. With all the superb games included in this offer new players should have no difficulty meeting the wagering requirements in order to claim up to GBP 100 absolutely free.
Virgin Online Casino, the popular Alderney licensed online casino, is running a stunning promotion at the site titled "Slota Money" that will continue until Monday, July 2, 2012.
The promotion has been divided into nine sections, each of which offers its own prize pool associated with a popular progressive jackpot online slot at the online casino.
One prize draw entry will be given to players for every GBP 10 wagered on the designated slot with each draw taking place the morning after the period for that particular progressive slot game expires.
The first two prize draws took place on the progressive slot Thor's Thunder from May 21 to May 24 and on the progressive slot Tarot Fortune from May 25 to May 27. Each prize draw had a prize pool of GBP 10,000 which was shared among 1,628 players with GBP 1,000 going to the top player.
The next prize draw will be on the slot game Bouncy Balls and will be based on wagering at Virgin Casino between May 28 and May 31.
The prize pool, the top prize and the number of people sharing it will increase with every draw with the final draw due to be held for June 25 to July 2. The prize pool for this Draw that will be shared by 7,647 players at Virgin Casino is a whopping GBP 500,000 with a top prize of GBP 25,000. The progressive jackpot game designated for this period is Big Top Tombola.
Players may wager on the designated games at either Virgin Casino or at Virgin Bingo in order to participate in the prize draw.