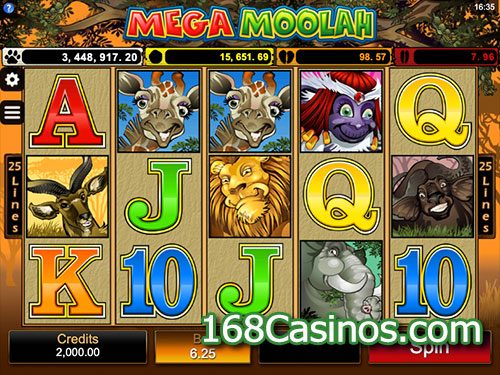 One of the most popular progressive jackpot slot games in the industry, Mega Moolah, is dazzling fans at the rate that its biggest prize is climbing right now. At the last count, Microgaming's slot was offering the winner of its top jackpot nearly EUR 14 million if it hits today.
Mega Moolah's highest jackpot out of the four progressive jackpots offered in the game – the Mega Progressive jackpot – hits on average every 40 days. Since it is now nearly 80 days since someone won the massive prize, the jackpot amount has grown incredibly. As such, one lucky player is expected to take down the jackpot any day now – and it could be you!
The Mega Jackpot is seeded each time after it is at EUR 1 million. The Major Jackpot is seeded at EUR 10,000 and the Minor Jackpot begins at EUR 100. The smallest jackpot, the Mini Jackpot reseeds at just EUR 10.
Because the jackpot is so high right now, more players will be trying their luck on this jungle-themed game. Of course, the more people who contribute to the jackpot, the higher it will grow – until it is hit by a Microgaming casino player.
The biggest jackpot paid out by Mega Moolah was EUR 18,915,872.71, won by an anonymous player at Grand Mondial Casino in September, 2018.