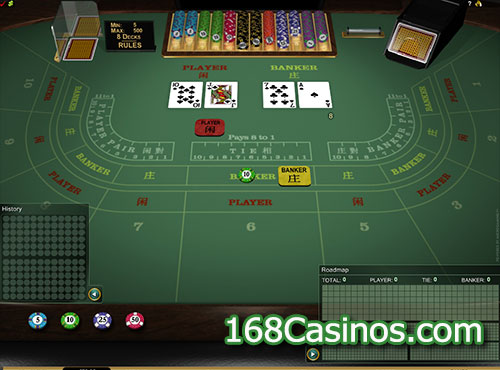 Baccarat is a popular card game which is played in casinos since long ago. It has both excitement and fun for every class of casino goers, and Baccarat powered by Microgaming, is even more dynamic.
Players have several betting options in the game where minimum pay through is as lower as one cent and surges according to player's bankroll. However, casinos normally put a one dollar threshold for every player playing this game. This game has lots of variants like some casinos allow multi players to participate in a single game while other casinos like to have only one player gameplay.
Anyways, wherever playing this game first step is to determine where you want to wager you money at coz you have two players: one is Banker and other is Player. Don't get confused with Banker coz this is not casino but an artificial playing agent where anyone can bet his money upon. Perhaps, experienced players always advice to bet on Banker rather Player for higher winning odds and less house advantage.
Before learning how to play it, let us understand how cards are taken in this game. The ultimate goal in this game to have higher hand ranking cards closer to nine, likewise, ten and all face cards are taken as Zero while an Ace is considered as one.
However, if total of first two cards is more than ten, only unit digit is considered leaving the tens number. Like, if a player has two 7 and 5 cards, his total will be 2 not 12. Initially, a player has to put his money either on Banker or Player and then dealer deals one face up card to Player and then to Banker. Card dealing starts from Player first so his hand is also finished first. If a player has a total of 8 or 9; he doesn't not get any further card while if Banker has a total of 8 or 9; he wins without any further dealing.
This is the basic gameplay of a Baccarat game though many casinos have keyed their own rules and conditions to suit their players.
One of the important considerations before playing this game is to check whether you are playing a single deck game or a multi decks game coz house edge for player's win, banker's win, and for a tie differ in all the cases. So, would not you like to try a classic card game at its best?

Try Your Luck with Live Dealer Baccarat at Royal Vegas Casino