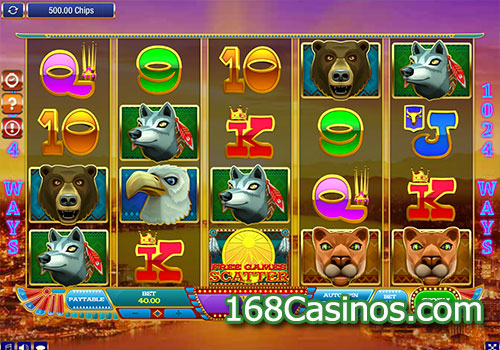 By The Rivers Of Buffalo Slot is one of the unique slot games from the house of GamesOS and they seem to have been inspired by the wild life inherited around the Lake Erie and Lake Ontario hence they tried to depict it into an online slot game. There have not been many of its kind slots games hence this one surely gets attention from every slots lover. First, let talk about its visuals and if GamesOS has successfully encapsulated the wild like into smallest screen and yes they did a brilliant job by showing Lake Erie and Lake Ontario in the background connecting two lakes. Background creates a perfect environment for you to feel if you are really standing in the riven enjoying the natural creatures in their wildest form. Anyways, game visuals are also in line with its core theme; they are represented by some wild animals faces along with English alphabets which carry unique marking with them like a king crown, a diamond, or a bison and as far their visuals interpretation is concerned, they are created with two dimensional interface which is enough if not the best to interpret the wild life.
By The Rivers Of Buffalo Slot Game features
Since this one is a unique of its kind game you need to expect something extra out of it and rightly so GamesOS has done everything innovative herein. Like, it supports hosts of play devices – from a tiny smartphone to big desktop and an interesting gameplay that plays equally well irrespective of the screen size you are playing on and this is the brilliance of GameOS brilliant team who did not leave any glitch in their algorithm. The visual layout of the game contains a 5×4 matrix and offers a mammoth list of 1024 paylines and you can bet a maximum of fifty coins per spin making your highest possible bet to the tune of 1000 per spin which is big sum for any slot player. Coins value starts from just fifty cents which makes this game within the range of every slot lover regardless of his bankroll size.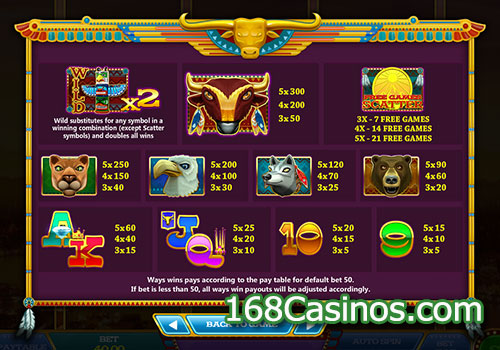 Extra add-ons
Like every other slot variant available today, there are wild and scatter symbols which help you win more and if you are not accustomed to the working of scatter symbols and how they help you win big, you can always try By The Rivers Of Buffalo Slot in demo mode before wagering your hard earned money. Before you start rolling your reels, you need to pick few options like how many lines you want to play with, number of coins, and their value along with if you want to exercise its Auto Play mode where you can input all the details at once and enjoy the rolling screen sitting on your seat!
Finally, it is a perfect masterpiece from GamesOS who is known for creating some unorthodox gaming solutions and By The Rivers Of Buffalo Slot is not an exception in any way. You should definitely check it if you want to enjoy the 1024 paylines gameplay without shelling out too much of your bankroll.

Try You Luck at Unibet Casino