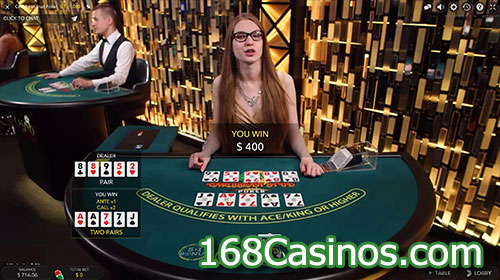 There are various card games in casinos but Poker is one of the highly praised card games worldwide. Poker itself has many variants and Caribbean Stud Poker is one form which is based, of course, on five-card stud poker where player has to beat dealer's five card hand ranking to win money.
As its name suggests; it originated in Caribbean island and later entered in American and European markets, and now it is a worldwide tabled poker variant having a progressive bet feature. There are certain rules to play this game and each player has to go through them in order to plan his strategy. Payout is largely based on where you are playing coz every country, every casino has its own paytable. So, choose wisely where you are playing by scanning its payout ratios.
How to Play Caribbean Stud Poker
Caribbean Stud Poker is a basic five cards based poker game but its novelty lies in its way of beating the dealer. Game is played between a dealer and one or several players. Each player competes with the dealer; hence no player fights with each other.
To start the game; every player needs to place a starting bet called Ante bet and then dealer deals five cards to each player face down. He also deals five cards to himself but reveals only one card to players. Now, each player is given an option either to fold his hand or raise his bet. If he increases; he needs to put a matching or double raise bet and then dealer reveals his remaining four cards.
A player can only lose the game if dealer qualifies and has a better hand ranking; while if dealer disqualifies, each player wins even money for his ante bet and his raise will end in a push. However, if dealer qualifies, there are three possibilities and results are different in each of them:
i) If dealer has a better qualifying hand ranking than player; player loses his all bets.
ii) If dealer doesn't have a better qualifying hand ranking; player gets even money for his ante bet and any raise is paid according to the paytable.
iii) If dealer and player have a tie; both ante and raise bets end in a push.
There is also a progressive bet feature, and if a player places a side progressive bet and has a progressive hand ranking; he wins according to progressive paytable.

Try Your Luck with Live Dealer Caribbean Stud Poker at Platinum Play Casino