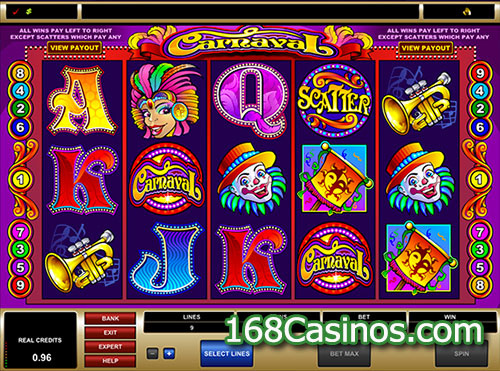 Carnaval Slot is a festive theme based slot game deigned by the house of Microgaming. Carnaval Slot is a five reels slot game that rolls around the popular Mardi Gras celebrations that took place in New Orleans just before Lent each year. Like its name suggests, it is not a circus theme slots, however, it carries equally entertaining features than any other game of its genre. Microgaming has taken care of each tiny detail of this festival before deigning the core theme so they do not have to face the criticism for silly mistakes as they have been through few times in the past. Visuals of the game are in tune to the festive celebrations and all symbols carry lightening border along with nicely decorated paylines where you need to wager your money. Game symbols are also in match with its base hence you won't feel anything isolated if engaged with it. Like other games of similar theme, it also has several add-ons that help you win more and more with each of your spin.
Carnaval Slot Gameplay
Microgaming has been a specialist in crafting slot variants that are easy on your brain and you don't need to scratch your heard here too. However, there are few options you need to pick before hitting the spin, like how many lines you would like to place your bet on and number of coins on each line.
Moreover, coins value is also scattered into several denomination and you need to pick one according to your bankroll and once you are done with your selections, hit the spin and your landing screen tells you if have something under the Win tab – simple! Notably you can range your wager from twenty five cents to five dollars which brings it within the range of every slot lower and as far as highest payout is concerned, you can win as high as 5000 coins if you are playing it on your luckiest day.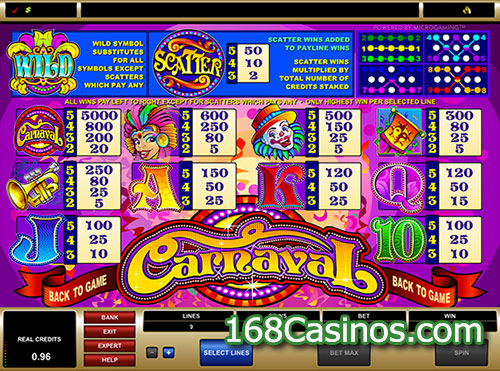 Carnaval Slot Extra Features
As said, Carnaval Slot has everything you can expect from a slot game, a wild symbol and a scatter one, although, it lacks any free spin or bonus round which dents its reputation quite a bit yet it has enough for low rollers who do not want to wager high expecting big bounties or freebies. Carnaval slot's logo serves as the wild symbol and helps you complete a winning combination and as far scatter is concerned it is clearly marked 'Scatter' and works as a multiplier rather offering free spins. If you have it for 3, 4, or 5 times on the landing screen you can multiply your winnings by 2x, 10x, or 50x –a mega treat for its players!
Verdict
This is surely a fun loving slot based around one of the most popular festive celebrations and hence Microgaming has not put too heavy graphics in it, they – may be – were more focused on its smooth play rather eye catching visuals hence this is not a bad afford from their team to deliver such a slot offering that much of bounties. You should definitely check it today.

Try Your Luck at Platinum Play Casino