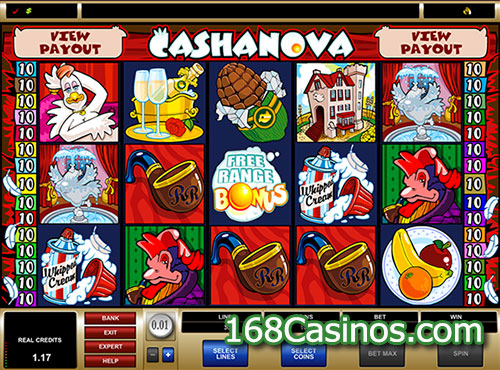 Cashanova Slot is a funky slot variant designed by the house of Microgaming in line with its other games of similar nature; however, this one has some elite features that make it a perfect stand apart. This is a funny chicken theme based slot game that rolls around the comic like characters. All the icons are so deigned so you could get a light hearted entertainment whenever you hit the spin and Microgaming has proved they are the best in this space and here too they tried their best to input every possible feature to entice every genre of slots lovers. First thing first, Cashanova Slot is a five reels slot game that offers to wager you money on up to thirty paylines. Betting size is also kept within the range of every slot player hence you can start your bet from as low as one cent that could go as high as seventy five dollars and if we talk about its visual appeal, it is just next to the best within its own limitations.
Yes, you guessed it right, if you are expecting three dimensional visuals with digital sound, then you would have to look somewhere else, however, if you are more interested in sensing the true color of a light hearted romantic slot that rolls around the luxurious house of a chicken then you are at the right place.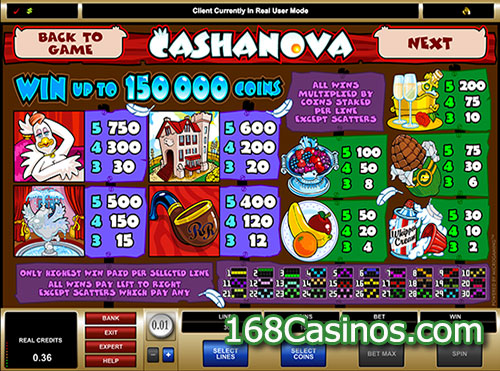 Cashanova Slot Bonus Rounds
Like every other slot of contemporary gaming, here too you will get the supporting hands in form of wild as well scatter symbols. Moreover, here, you are equipped with other features like Barn Bonus which is activated if golden feather key come up on the first three lines and in here you need to choose one of the nine objects in front of you. Each object has a cash price which is added to your bankroll automatically. Interestingly, there is another Get Lucky bonus round that can only be trigged from the Barn bonus but only if you get the key behind your chosen object.
More Bounties like free Range Bonus are also there which reward you more free spins if you could land three of the fried eggs scatters either on reels three, four and five.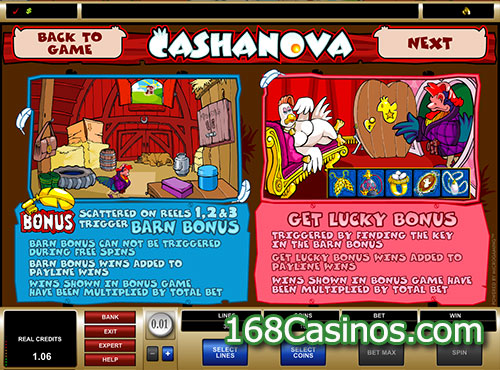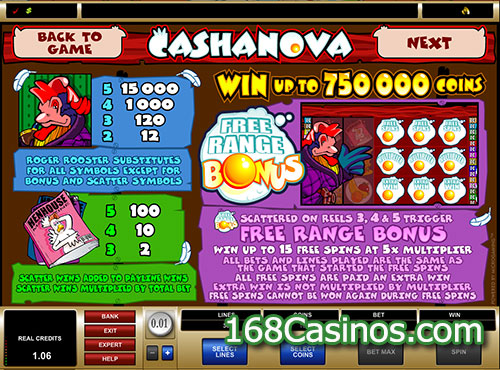 Gameplay
Like any other Microgaming game, here, too, you need to pick few options to start rolling your reels, like paylines you want to wager your money on along with number of coins with their value. Microgaming team of software designers have done a great job in keeping this game within the range of every slot lover hence no matter if you are an advance player or a new entrant, you can play it with ease without being stuck with confused options. Overall Cashanova Slot game is a beautiful addition to large portfolio of Microgaming and they tried to make it even more pleasing with this one. You should play it to enjoy a romantic night, of course, with a chicken!

Try Your Luck at Red Flush Casino