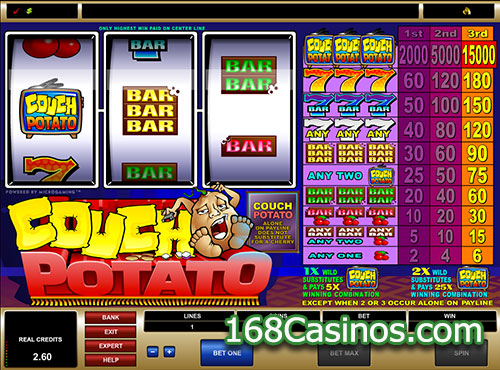 Couch Potato Slot is a traditional three reels online video slot developed by the house of Microgaming. This is particularly the only slot which is designed for mobile devices hence you can't play it on computer which is actually an aggressive step by the developer yet it offers more than enough entertainment for slot lovers who want to play a slot on the go.
Precisely talking about details of the game, Couch Potato Slot is just a single payline slot game which has the typical visual appeal of a classic slot and Microgaming although have several such games in its portfolio but this one is different from them for its screen appearance and the way its gameplay has been designed by the developer. First let us talk about its visual appeal, we have a dark Blue color in the background and at front we have the big reel matrix containing three vertical standing reels and at bottom, like always, we have the navigational area having all the options we need to take while playing the game.
Sound support is also not very contemporary but it supplements the theme very well and helps us go back in time to know how initial phase of slot gaming used to be.
Wagering requirements and Wild symbol
If you are a lover of classic slots and want to try your hands on this one, you can, but before that you should go through its wagering requirements, like how much you need to bet to roll its reels. You can maximum wager three coins on its only payline and value of each can be from as low as twenty five cents to five dollars which makes your minimum and maximum bets to the tune of 0.25 and 15. Notably, you can also win highest 1500 coins prize of the game which is way too enough for this kind of slots. Anyways before starting the roll, go through the game symbols and which one is the highly rewarding, we have cherries, single/double/triple bars and white/blue/yellow sevens and Couch Potato television is the most valuable symbol which can reward you 15000 coins.
Apart from that, it also has the wild symbol and one or two contributing to a winning payline will multiply that win by 5x or a hefty 25x.
Couch Potato Slot Gameplay
Once you are ready with a game plan and have gone through the details of its offerings, you can start picking the base options, like number of coins you are willing to play with and then hit the Spin which will start three reels rolling upward down. Once your reels stop, it tells if you hit any prize or not, and if not, start picking the options again. So, without having any bonus or free spin round, this slot is a good time pass classic slot variant that can entertain you while you are not near your computer screen and its target players are also those who are always on the go and still want to play a slot game.
Play Free Couch Potato Video Slot

Try Your Luck with Couch Potato Slot at Jackpot City Casino