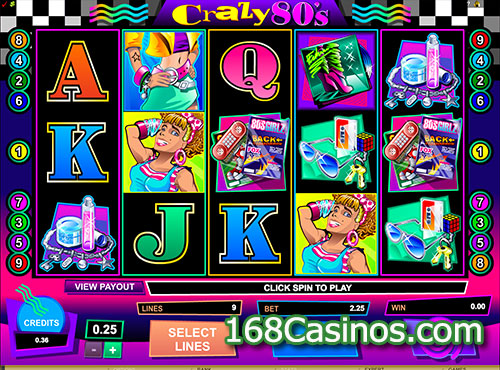 Even though there are countless online slots available today which are based on highly decorated contemporary themes, yet there is still a big vacuum for slots that belong to eighties and Crazy 80's Slot is one such game that carries the craziness of eighth decade. Visual appeal of the slots is at par with the first generation of slot gaming along with two dimensional visuals and compelling sound but its excitement is no less than playing on any high end contemporary slots since it reminds you the early days of this popular online casino game. The symbols of the slots are key figures that compensate the delight of that era like Shoulder pads, hairspray, neon colours, Susan, Record, Phone and Mags, Road Trip along with 10, J, Q, K and A and even if you are not that kind of slots lover, you can't afford to miss every spin of this highly popular slots variant.
Crazy 80's Slot Basics
Crazy 80's Slot is a product of Microgaming and carries five reels offering nine paylines betting option. Despite its very basic gameplay, you can win a maximum of 5000 coins if playing on your luckiest day which will ease your sense when you hear the melodious soundtrack of early eighties. First, let us talk about the basic interface it offers, and like its core theme; you won't complaint about how easy it is. Each option is self-explanatory where you need to pick few choices like paylines you want to bet upon by clicking Select Line along with number of coins and then hit the Spin and your rolling reels would land your winning combination in few seconds. In the meantime, you are briefed with some melodious sound track that eases the pressure little bit. You can bet a maximum on ten coins per line to exaggerate the excitement and if you are a high roller and don't want to interact with the options too many times then click on the Bet Max to roll the spins faster for you.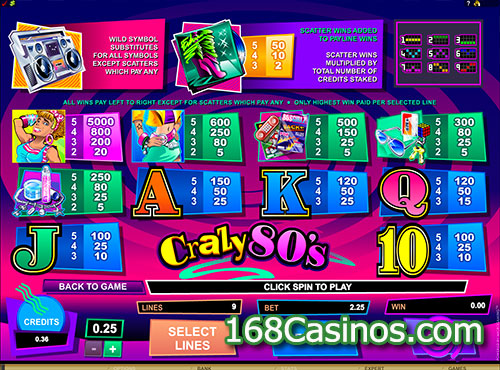 Crazy 80's Slot Wild n Scatter Symbols
Like any other contemporary slot variant of recent time, here you have Beatbox as the wild symbol that can substitute all other symbols except the scatter which is being served by Legwarmers and if you have scatter on landing screen for required number of times, your winning get multiplied. Apart from this there is no Free Spin round which is the small dent on its popularity but anyway there is enough to excite you if you are a slot lover.
Verdict
Like its name, Microgaming did a brilliant job in designing a slot that is not heavy on your pocket but satisfies your aspiration in tune to the any big slot game variant available today. You should try it to feel the exaggeration playing basic but exciting Crazy 80's Slot!