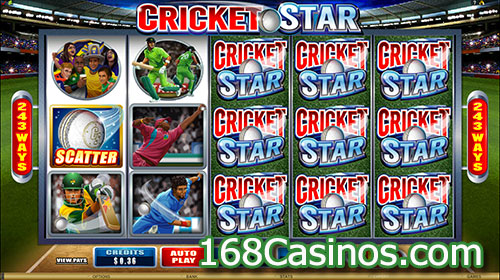 Even though soccer is the most popular outdoor game in the world, Cricket is also having its appeal but within few regions only. Even then whole world enjoy watching every moment of this game and whenever we have a big international event on the cart, its popularity increases three fold. Casino games developers are known to be the master of exploring every tiny possibility to lead the online casino market and Cricket Star is one such slot game which is carefully designed by the house of Microgaming and they intentionally launched this game during the time when several international cricket events have been taking place. Generally, online casinos are field with games which are based on sports popular in European circuit only, but this time, Microgaming decided to expand its reach into Asian region as well where this game is immensely popular.
Cricket Star Slot is precisely a five reels slot game that has 243 paylines to bet upon, moreover, you will find lots of energetic players' visuals right on the reels itself. Most of the slot icons are of cheering players and spectators and they keep shouting in the view reminding you are on a slot game which is one of the most crowded outdoor sports. Since European players are grossly not very keen to play any cricket based casino game, Microgaming decided to put every feature that could help them making it a popular game in European circuit as well and for that they input as many as 40 wild symbols across all the reels to help you win faster. Moreover, there is also a scatter and a stacked Wild that can land onto 3, 4 and 5 reels only.
Apart from this, Cricket Star Slot is also a bonus round called Wild Wickets which activates randomly and in this round you are required to indulge in bowling animation and hit the wickets and if you could do so, reel 2, 3 and 4 turn completely wild to make sure you will take home something at least. As far as Scatter symbol is concerned, you need to land them on 3, 4 or 5 reel and then you are rewarded 15, 20 or 25 free spins along with a 10x multiplier which is enough to ease your life. Last bonus round is the Rolling Reels™ which can be triggered both in Base Game and during Free Spins. In this round, winning symbols pay and then disappear and the Reels roll down to allow you win more in next round.
Cricket Star Slot Basics
After the details as mentioned above, you can easily get the glimpse of how exciting it could be even if you are not a fan of cricket and as far its wagering requirements are concerned, you can start rolling the reel for as low as fifty cent, however, if you are a high roller, you can wager as high as fifty per spin which is decent amount for any bankroll. In short, this is a unique product from Microgaming and they designed it keeping in view world audience scattered in every part of the world.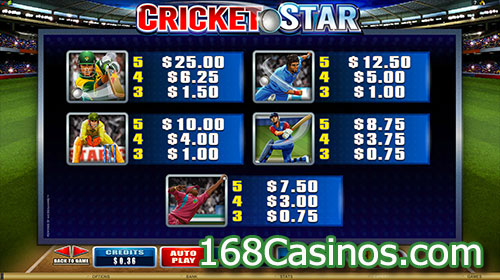 Try You Luck at Casino Action