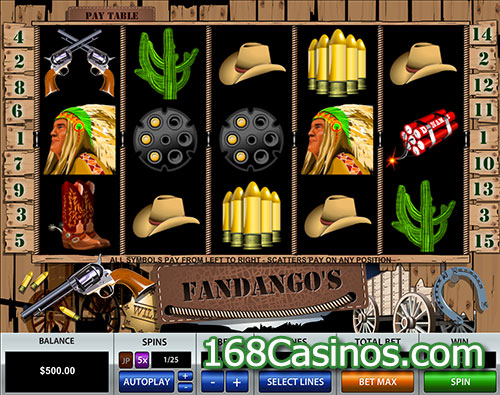 Fandango's 3 Lines Slot is a three paylines version of popular Fandango series of online video slot from the house of Pragmatic Play. Although, this one is also a traditional slot yet it has something to lure the lower middle class slot players perhaps even many high rollers also play this slot regularly.
If we look at the home screen to know what is different from its previous one, you won't find anything significant except there are options in the paytable that tell how much you can take home if wagering on all three paylines. Like the earlier one, here too we have the complete paytable at the left hand side and then there are three vertical rectangular reels containing all the game symbols which are mostly same to the previous one and at bottom we have the navigational options having all the vital choices we need to make before rolling its reels. As far sound support is concerned, there is a difference to the last one and it looks developer has used contemporary equipment to design the digital sound support this time.
Overall, this slot is slightly better than the last one which ensures developer has added a lot to make its gameplay even more luring.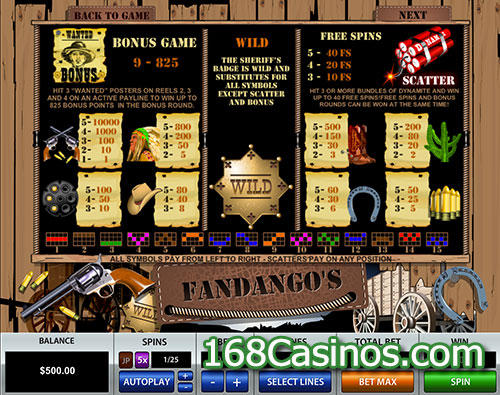 Fandango's 3 Lines Slot Gameplay
If you have been a fan of the first installment of this series and want to check the improvements this one has from the earlier one, you are at the right place and as far gameplay is concerned, as told, there are lots of enhancements to the earlier one which are added to lure more players who want to play a hybrid version of classic as well contemporary slot and this one is the perfect example of how best such a slot can be designed. Anyways, if you are ready to roll the reels, start picking the base option like number of coins, paylines, and coin value. Notably, you can wager up to three coins per line and their value can start from just one cent and goes as high as five dollars.
If you are a high roller, you can try its Auto Play and Bet Max options to fasten your gameplay without interacting with the game options again and again. Once you hit the Spin, reels will start rolling to offer your final landing screen.
Supportive Features
Although, this is grossly classified under the classic slot, you can find at least one supportive feature from developer corner which can help you win more and more, i.e., the wild symbol of the game which happens to be the title one and it works in its natural way helping you complete a non-matching landing screen by substituting the non-matching symbol. Apart from that, you can win a maximum of 6000 coins if you land the highest paying symbol on all the paylines which is more than enough looking at its theme and wagering requirements.