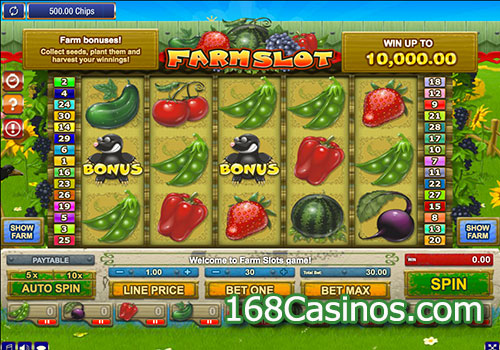 It would be foolish on my part if I ask you if you are a fruits and vegetables lover, yes, you would be and even if you are among the few who don't live to eat, Farm Slot is a game that can help you change your perception about the life. Farm Slot is a CTXM powered five reels online slot game that offers as many as thirty paylines betting option and truly depicts the real value of vegetable and fruits in our life. Home screen itself is enough to talk about its theme and its name also proves which game you are on, all the symbols are some kind of fruits or vegetables and in the background you have a big farm with plenty of crops to prove you are in a wonderland of fruits. Moreover, even the bottom part of the screen uses fruits in the background which makes it even more mouthwatering.
Anyways, let us talk about its quality and how far it fulfills the expectations players have from a slot of this genre. CTXM has tried their hard to design a game that offers one of its kinds gameplay and is based on unorthodox theme and truly they did a marvelous job but they missed few things, like they should have used three dimensional visuals to design the images or there should have been a digital sound support.
Anyways, even with these tiny shortcomings, this is a good offering from the developer who made no mistake in keeping it within the range of every class of slot player.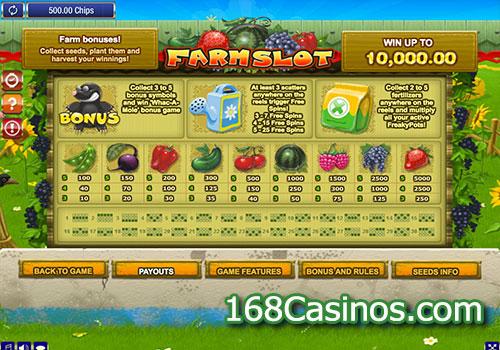 Farm Slot Gameplay
Before you start hitting the Spin, there are few things that need to be taken care of like how many lines you want to bet upon along with number of coins per line. When you choose all the options by clicking the respective Tabs on the screen, hit the Spin and see the rolling magic in front of you. Your landing screen will up to you within few seconds and if there is anything to reward you, would be notified to you. To make its gameplay even more enticing, there are few helping hands to win you faster, i.e., wild symbol which helps you complete a winning combination by substituting any other symbol of the game, there is also scatter one that can offer you free spins if you could have it on the landing screen for more than three times.
As far your wager is concerned, there is no minimum wagering requirement which is good for this kind of genre. Further, you can bet maximum of two coins per line and coins value can also start from one cent which is comfortable for even low rollers who don't like to risk hefty sum playing a slot.
Verdict
Since, Farm Slot has its own theme which is rare to see in contemporary slot, this is a perfect time pass for casual as well experienced slot players who want to divert their mind from day to day problems and developer has kept this trait in mind which designing the game.