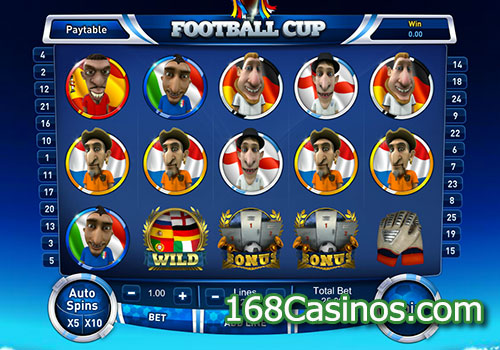 Football is definitely one of the most popular outdoor games of sport having a fans following coming from around the world and for this reason GamesOS has a maximum slot variants covering this exciting game.
Football Cup Slot is one such slot variant which is designed by the elite team of GamesOS and using their best professionals they presented one of the fantastic sports in its best gaming avatar.
Football Cup Slot is a video slot with a five reels gameplay and offers as many as 25 paylines betting option. Being a Football slot, there has to be lots of noise during the game and rightly so, GamesOS has designed its user interface in such a way that you could see whole stadium in front of you while reel matrix is righty located at the center of the home screen. Slot symbols are popular game icons, like players, whistle, boots that reminds if you are playing a football theme based slot. If we talk about its visual appeal and how far GameOS succeeds in attracting soccer fans to play this highly entertaining slot game, then they deserve applaud for this great afford where they input perfectly synchronized visuals along with a crowded sound support that reminds you as if you are inside a stadium and watching a live match.
Football Cup Slot Gameplay
Like every other slot game available today, Football Cup Video Slot also has a basic gameplay without any troublesome options. You just need to predefine your game strategy like how much you are willing to wager per spin and what is your bankroll size for the game. This strategy is made based on your experience playing online slot games so if you are a newcomer you should start with minimum bets and then increase the amount slowly, however, if you are an experienced slot player and know everything about it, you can start with the maximum bets right away.
Anyways, let us talk about how to spin the reels. You need to pick few options like number of coins with their value and how many paylines you want to bet upon. Once decided hit the spin and wait for your landing screen, if there is something in match with the paytable you win accordingly else start the game again.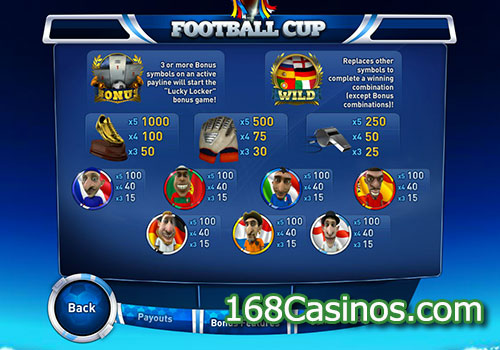 Football Cup Video Slot Extra features
You won't find even a single slot game today that doesn't offer few helping hands to make you win faster and this slot is not an exception. Football Cup Slot carries everything like wild symbol, scatter symbol, and a bonus round that help you enlarge your bankroll faster than ever. The working principal of scatter is simple, you have to land it for more than three times on the landing screen and you are rewarded free spins with re-triggerable options while wild symbol is like a substitute of every other symbol. Last but not the least, its Auto Spin feature is focused on high rollers who don't want to interact with game options after every spin as they can input all the details at once and enjoy the rolling reels sitting on their desks!