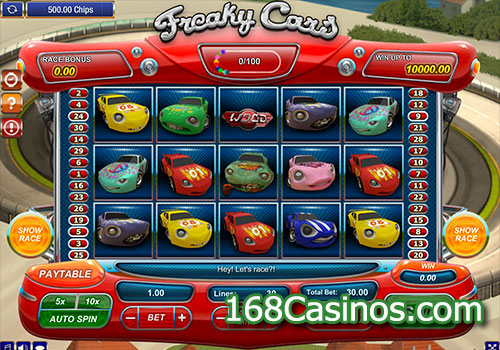 Over the years, after a tremendous growth of online casino industry, there have been many new games developers who have now established themselves as the promising partner of this money rich industry and GamesOS is one such developer who has several successful games under its portfolio and Freaky Cars is one of them.
Freaky Cars Slot is a five reels slot game that offers thirty paylines to bet upon. By a mean, it is a complete slot game that has everything you can expect from a slot variant even then, being from a new developer, players expect something more from anyone entering into the industry hence GameOS has tried its best to lure every kind of slot players with its unique bonus rounds along with routines add-ons. Like what its name suggests, it is a car race theme slot so you get everything in line with its core like game symbols, visuals, and its gameplay which feels like if you are controlling the steering of a racing car.
If you look at the home screen, you will see mostly car symbols like what its name Freaky Cars suggests. All the cars on the reels are retro looking ones, though, in various colors to offer you greater entertainment along with a wild and the free spins symbols. If we talk about its visuals, they are well in tune with its theme, although all the cars as well its background are designed with two dimensional visuals yet they create an ambience to feel if you are on a racing track.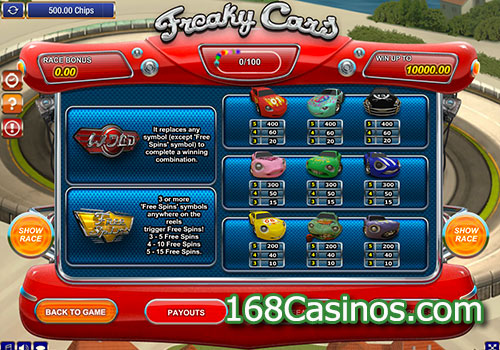 Freaky Cars Slot Gameplay
Even though Freaky Cars is designed by the GamesOS, its game play is in line with any other developers in the town with familiar options to choose from, however, the difference starts from the betting range you can go for which is more comfortable than available slots of the same genre. You can range you bets from as low as twenty cents to as high as two dollars per spin which is well within the limits of every slot player. If you are playing on your luckiest day, you can roll as many as 400x of your base bet if you could capitalize on all the free spins available to you.
Additional features
Like expected, GamesOS has put wild and scatter symbols into it so every player gets a level playing field irrespective of his level of knowledge about slot gaming. While wild symbol helps you complete a winning combination, scatter is the one that offers number of free spins if you could have it on landing screen for more than three times. No matter what the wager you have put on it, whenever you win, a pleasing sound welcomes you and shows your wining amount which feels you special if you are a high roller and this feature lures more newcomers to try their luck on this slot.
Final Note
Without prejudice to any other game, we must say this is a good effort from the house of GamesOS who has now stood itself among the best casino games developers after the successful launch of several slot variants one after another and this one is of course one of them.