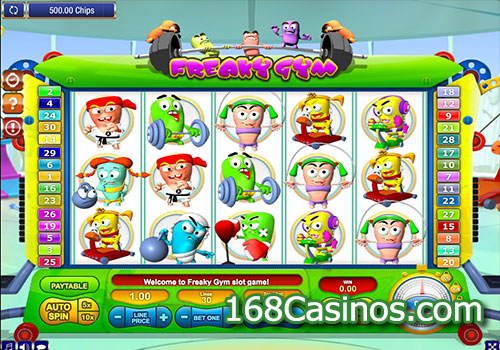 Freaky Gym Slot is a GamesOS software product which is based around five reels gameplay. It is unique in its presentation which is perfect for fun loving people.
Like all other GamesOS slot games, here, too, there are lots of features to make you rich faster along with enough bonus rounds to lure your desires and for that reason this is still popular among all the slot loving players. Freaky Gym Slot has many as thirty paylines betting option which is not bad considering its minimum wagering requirements which is not hard on any player's pocket and if we talk about its core features, you will find wild and free spin rounds along with a thematic bonus round which is unique in itself. Even if this game is not connected with any progressive jackpot, there is a fixed jackpot that can add as many as 300 coins into your bankroll if you get the dream landing screen. Ok, these are just the basics of this highly entertaining slot variant, let us talk about its features in details:
Visuals
Slowly and steadily GamesOS has established itself as the best slot gaming provider with countless variants being played in almost all online casinos and this one is not an exception. Its home screen tells a lot about its quality, there is a beautifully designed reels matrix which uses three dimensional graphics which is rare to see in online slots these days. Being a bodybuilding theme based slot all the symbols are carefully designed keeping in view the core theme and you will see all of them in their true colors. Bottom area is where all the interactive options reside and this is your main navigational areas as well since all the selections you need to pick are available here. Again, this is as well designed at par with other parts of the screen hence you feel playing a high end slot game with several heaviest graphics engine in use, but thankfully, GamesOS has designed this game keeping in view the mobile devices so players could enjoy it on the go.
Freaky Gym Slot Gameplay
Like most of the slot games available today, you won't find any brain hitting options to choose from and even then if you find this slot confusing you can try it in a demo mode and if you are comfortable with starting your first bet with real money, go ahead and start picking your options. First, you need to select how many lines you want to bet upon and then how many coins you are willing to wager per line.
Knowingly, you can range your coins from one cent to five dollars per line which is within the range of every slot lover. Last step is to hit the spin and your rolling screen tells you if you have something to win.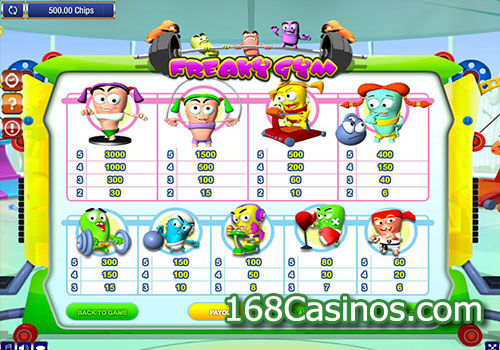 High Rolling Features
If you are a high roller and do not like to be interactive after each spin, you can try its Auto Play mode with your predefined number of spins which rolls automatically and tells you how much you have won in all of them. This feature is especially useful for experienced players who just play slot to divert their mind from other brain storming casino games like Poker!