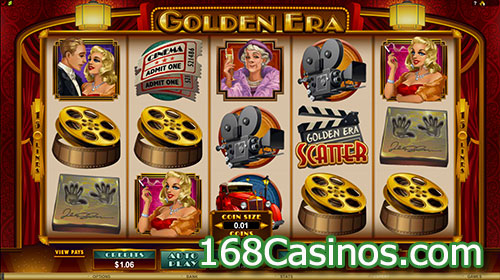 Golden Era Slot is a Microgaming slot game that prominently talks about the Golden era of Hollywood. It covers the era from end of the 1920s to the early 1960s when there used to be the silent phase of movie industry.
This slot is actually about the film stars, awards, and glamour which used to be the highlight during that phase and Microgaming tried hard to visualize it onto a slot canvas with the help of brilliant in-house software professionals. Basically, Golden Era Slot is five reels slot game that has fifteen paylines betting option which is simple and non-confusing for aspiring slot players and even for experienced slot players these options are comfortable. If we talk about its symbols, they all are the perfect depiction of 1940s and how actors, directors, and cameramen used to be; it includes, cinema tickets, handprints of Walk Of Fame, film reel, camera, golden award, luxury car along with five characters from the era and they all completely supplement developer's imagination to deliver what Microgaming wanted to.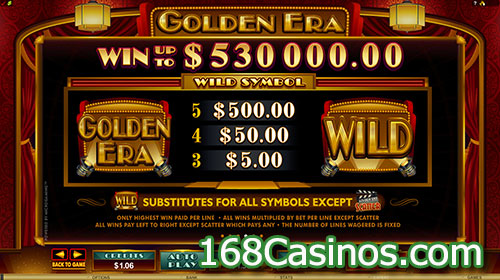 Golden Era Slot Add-ons
Like most of the slot games of contemporary era, Golden Era Slot has all the features we usually find in today's slot games despite its five decade old theme. Title symbol is the wild one that helps you complete a winning combination faster while clapper board is the scatter one to help you activate the bonus round. If you get three or more scatters anywhere on the landing screen it will take you into the Free Spins or the Double Feature Bonus round where you are rewarded twelve free spins with special traits. Like during first spin, leading actor turns reel one completely wild and the actress will do the same to reel five which enhance your chance to land a winnable combination. Likewise, both these symbols move to reels two and four respectively in the second spin and then hold on reel three for the third spin.
Next bonus round is its Double Feature Bonus where you are taken to the screen having an exterior of a cinema plastered with ten movie posters. Your job is to just keep picking one of them for cash prizes until you find the red 'Pop' logo which ends the round.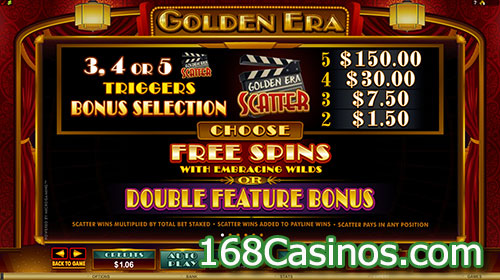 Golden Era Video Slot Gameplay
Like I said before, this is a basic slot game without having any confusing option to choose from. Yet there are few things you need to take care while playing this slot. First you need to pick the paylines and how many coins you want to wager on each of them. Last step is to hit the spin and reels start rolling for you. If there is anything in match with the paytable, you will be notified else start rolling the reels again. Not to mention that visuals of the game remind you if you are in that era and make you feel the ambience of the silent Hollywood era. So, try it in any of the Microgaming casino and sense the glamorous lifestyle of Hollywood stars during 40s!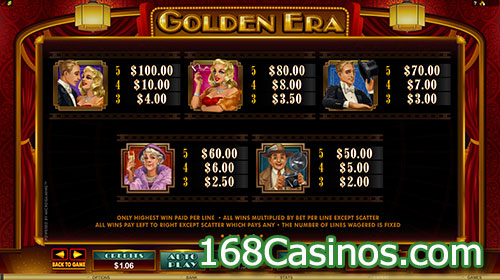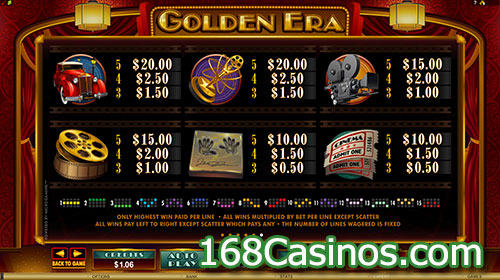 Try Your Luck at Royal Vegas Casino