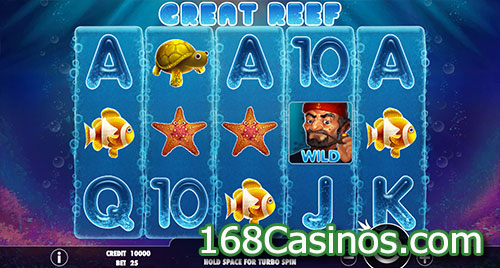 Online slot industry has become so extensive that you can simply not imagine any theme which is not found over here and under water is obviously one of the most exciting themes for every slot player.
Therefore, slot developers have several variants that roll around this genre including Great Reef Slot from the house of Pragmatic Play which is also a brilliant attempt from the developer to present underwater creatures in a new avatar.
Great Reef Slot is five reels slot that offers as many as twenty five paylines betting option and it has more than two years passed by it was launched in only casinos, and it is still a most aspiring brand for new slot players that makes it among the finest creations from the developer. If we look at its home screen and how far it matches with the theme, be assure it has a blueish color background that feels like the deep sea view and at center we have the reel matrix containing all the game symbols like English alphabets, turtle, seahorse, or starfish and at bottom, like always, there is the core navigational area carrying all the vital details about the game.
Overall, it scores a ten on ten as far audio visual appeal is concerted and how good it is in other aspects of the game, let's discuss.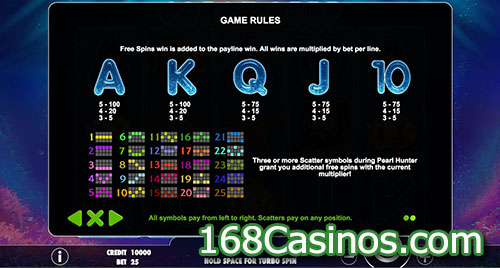 Great Reef Slot Gameplay
Being a contemporary slot carrying multiple paylines options, it is necessary developer designs its gameplay in such a way that even a new player could roll its reels without any support and this slot is something that satisfies the requirements at its best as there are easy to go through gameplay which entices everyone to its fans base. Before everything else, let us discuss about its wagering requirements and if it is in comfortable range of every class of slot player. Coin's value in this slot starts from as low as one cent that goes as high as five dollars and since this is just a single coin per line slot you can maximum wager twenty five coins per spin which brings it into the comfortable range of every class of slot player.
If you agree on the terms and want to roll its reels, then start picking the initial options, like your coins, paylines, and coin values. Apart from that there are two more optional picks like Bet Max and Auto Play which help the experienced players optimize the gameplay to their taste.
Great Reef Video Slot Extras
This is the slot that checks your landing screen from left to the right hence every combination needs to be verified in that order only except the winnings involving a scatter symbol. Yes, there is the support of a scatter which is the Pearl Oysters and if you have it for more than three times, Pearl Hunter bonus round triggers wherein you need to select two, out of six oysters, that can reward you up to 22 free spins and a multiplier.
Moreover, there is also a wild symbol which helps you complete a non-matching landing screen. So, this is an interesting and exciting slot for those who want to explore the underwater lifestyle and you should also check its features now!