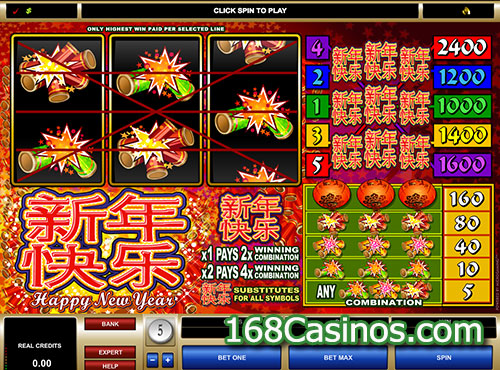 It would not make you any surprise if I say Happy New Year is a New Year theme slot game – which it is – but the new thing about this slot is its theme which is centered over China while by name everyone supposes this would be a traditional calendar year celebration game.
Anyways, let us talk about this game, its features, and how far it could deliver in offering quality entertainment while making lots of money for you. Happy New Year Slot is a basic three reels slot game which offers five paylines betting option which is usual for a slot carrying a brilliant title on it, yet this is one of the most successful slot variants from the house of Microgaming who designed this all Chinese game. Right from the moment you land on the home screen you get the welcome written in Chinese language which may look awkward to you if you do not know anything about the one, but if you do, you will be pleased to know how Microgaming is greeting you and then you have a default screen which is going to be your core navigational area.
Like all the traditional slot games of early eighties, here, you will be having reel matrix on the top left corner and on the right side there would be a paytable mentioning all the payable combinations. Just below the Reel matrix, it tells about the special features like its wild symbols and a prize multiplier. The most bottom area is where your betting details are available.
Happy New Year Slot Gameplay
If you want to play Happy New Year Slot game you need to pick the lines out of five available and how many coins you want to bet. You can also use Bet One or Bet Max option to pick the lowest and highest betting for you and if you are still not in a mood to play this game or if you are an experienced player who finds this game too basic, then try its Expert mode and play like how you love to play. For its lowest minimum wagering requirements, you can start rolling the reels from as low as one coin to as high as twenty five coins per line which covers a wide range of slot players who would love to enjoy this classy Chinese slots game themed around Happy New Year, but only if they are accustomed with Chinese traditions.
Happy New Year Online Slot No Fancy Add-ons
As I said before, this is not a contemporary slot where you get multi-level bonus hence do not expect anything like connectivity to a progressive jackpot, bonus rounds, or scatter support. Yet, it has a wild symbol and an Auto Play option which is useful for high rollers. And, if we talk about its highest payout, you can win a maximum of 2400x coins that too if you land a dream landing screen in front of you. Anyways, if we leave apart its basic options, this is not a bad attempt either and satisfies its target group very well and if you are among those this slot is designed for, play it and celebrate the Chinese new year with a good initiative.

Try Your Luck with Happy New Year Slot at Jackpot City Casino