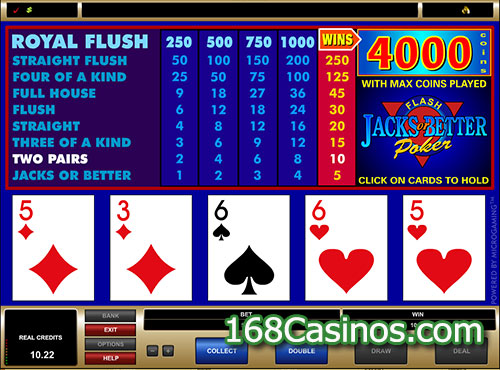 The Jacks or Better Video Poker game is a very simple game from Microgaming. This game has no wild cards, and it also has no bonus features. It makes use of 52 cards, which is a standard deck of cards, without the addition of joker. The payout though is also very simple, with the maximum payout also set at 4,000 coins. You will only get the highest payout if you get a royal flush and the bet you placed is the maximum number of coins, which is four.
Jacks or Better Video Poker Game Feature
One of the best things about the Jacks or Better Video Poker is its rules, which is very easy to understand. Because Microgaming developed this game, you are guaranteed of a very smooth game with almost no lags or errors. The graphics of this game is very clear and very sharp, and the sounds are also okay.
Another great feature of the game is its doubling feature as well as its autoplay feature.
The Game
As stated above, the Jacks or Better Video Poker utilizes 52 cards, minus the joker card. There are also no wild cards in this game.
At the beginning of the game, the cards will be shuffled. Once the cards have been shuffled, you can now place your bet. If you are after the highest payout, be sure to bet five coins.   Now, when you have placed your wager, the second step is to press the button with the deal word on it. This will give you your cards. During this you time, you can play manually or make use of the autoplay feature. To win in the game, you have to see to it that you get a winning hand combination. Royal flush at five coins will give you the highest payout, which is 4,000 coins.
One cool feature though of the Jacks or Better Video Poker is that you will be given choices. You can either take the money and stop the game or you can choose to double what you have earned and make a gamble. Now, if you do choose to double your earning, then you will see five cards placed on the table, four of which are faced down and one faced up. The faced up card is for the dealer. To win in this game, you only have to choose one card from those faced down cards and make sure that it is higher than what the dealer has.