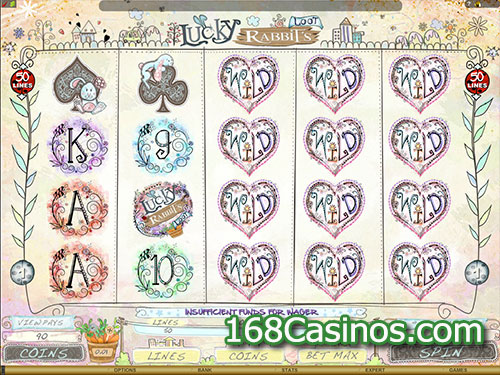 Lucky Rabbits Loot Slot is a five reels online video slot game developed by the house of Microgaming. It is among the few online slots having a strange design per se as you can sense the difference right the moment you start the game.
Its confusing reel matrix with almost a transparent background makes it hard to the players to understand what is where, in fact, if you are a new slot player things are worst for you, yet since it is a Microgaming product there has to be some respite for the players like fifty paylines gameplay and a negligible minimum wagering requirement that brings this game to almost every class of slot player.
Apart from this, Lucky Rabbits Loot Slot has a fifty paylines wagering option which is more than enough for high rollers looking for vast options in this space. Anyways, let us talk about its build quality and how far Microgaming could deliver. You must be surprised first to see how the creative team of Microgaming has designed its home screen which looks like a snow fall field with a dark white background which sometime feels as if a transparent one.
If we look at the bottom area where all the navigational options reside, you find all the typical slot options but with a twist like you need to mess with your head to locate where Line, Coins, and Bet Max button since they do not carry any easy to locate colors. Yet the good thing is there is a demo pay option which can be tried out if you are finding its visuals too messy for your taste.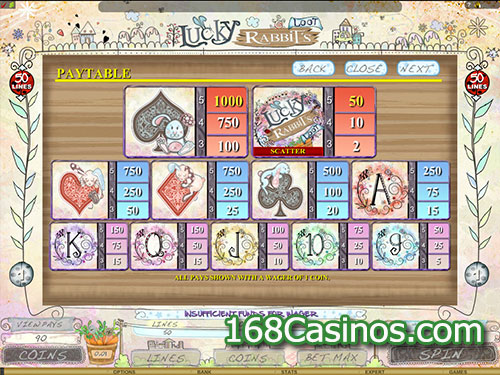 Lucky Rabbits Loot Slot Gameplay
Like any slot game we have in the market today, you need to start form picking the coin value, lines, and then number of coins. When done you total bet size is displayed at the top bottom and last step is to hit the Spin which starts rolling the reels and offers your landing screen in few seconds. Having said that, you can assume gameplay is straightforward expect the fact that colors of all the buttons could have been better to locate them easily while playing the game in a hurry.
Wagering requirements
Like said before, there is no hard and fast wagering requirements in this slot perhaps you can start your first roll with as low as once cent coin which can be as high as twenty cents and you can maximum wager twenty coins per line bringing it in the comfortable zone of almost every slot player. Since it is not connected with any progressive jackpot, you can take home a maximum of 1000 coins if you are playing it on your luckiest day otherwise it is not a good attempt for Microgaming who is capable of designing much better games than this.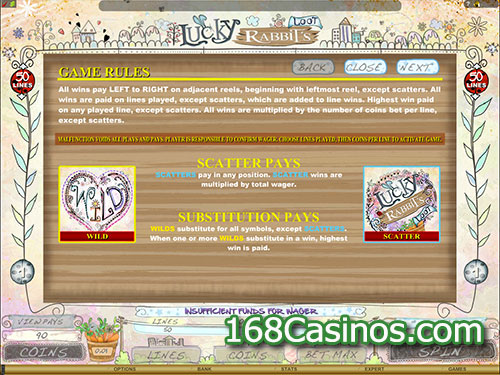 Add-ons
Irrespective of its design and how better it could have been, Microgaming did not forget to add all the fancy add-ons into its gameplay like wild symbols, scatter symbol, a bonus round and interesting gameplay which diverts your mind from all the shortcomings its design has in store for you.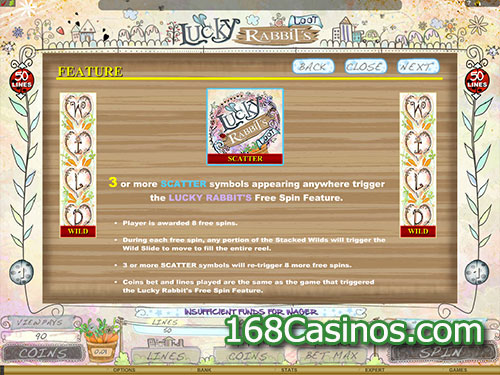 Try Your Luck with Lucky Rabbits Loot Slot at 7 Sultans Casino