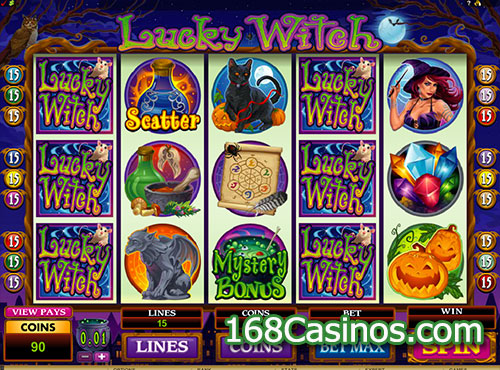 Lucky Witch Slot is a nicely designed five reels online video slot game developed by Microgaming, It is based around Halloween theme hence you can expect some glorified visuals and horrific sound support.
Like most of the Microgaming slots, Lucky Witch Slot game carries lots of exciting features like several supportive symbols which help you complete a winning combination faster along with a brilliant use of screen space by putting every game component right in there.
First, let us talk about its visuals and if they are better than other Microgaming games then you must be surprised to know it is among the fewest online slot to utilize complete screen space in a professional manner like you can find the whole reel matrix right at the center surrounded by paylines on both sides, game title on the top, and navigational options at the bottom. Further Reel matrix is perfectly placed at the center and all the symbols are correctly sized so they do not look too big or small and easily get your attention every time you are rolling the reels. In line with its core theme symbols are pumpkins, crystals, potions, a spell, a gargoyle, a lizard, an owl, and – of course – a black cat.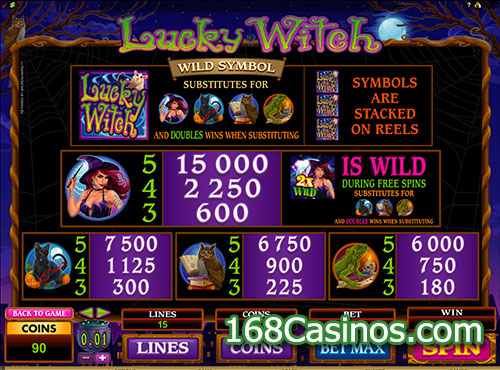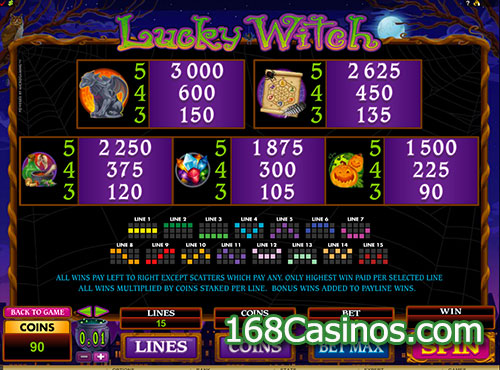 Gameplay and Demo Mode
Like most of the new slot players, if you are also the one when feels skeptical in playing a game not having a demo play option then be relaxed as you will find here a Demo Mode option so anyone could get accustomed to its gameplay and only then move to real money play. Anyways, if you are ready with some real cash, start from picking the coins value by hitting the plus and minus signs at the left bottom area and then you need to select the lines along with number of coins you want to play with. Once you are done with your selection, hit the Spin and reels start rolling to offer you a final landing screen. You are rewarded if there is anything in match with the paytable.
For all the high rollers there are two auto spin options with 5x and 10x spins using predefined options. This is especially useful for the high rollers who do not want to mess with options after every spin.
Lucky Witch Slot Add-ons
To help players win more and more there are few bonus rounds which keep the excitement alive throughout the gameplay. Like if you could have three or more Blue Potion scatter symbols anywhere on the landing screen you are given thirteen free spins which can be re-triggered again.
Apart from free spins, there is a Mystery Bonus which is activated when you have three of the bubbling cauldron symbols on reel one, three, and five and you will then be taken into one of four bonus games with a possibly to win up to 30,000 coins. These bonus games are: Magic Potion Bonus Game, Pumpkin Bonus Game, Spell Book Bonus Game, and Secret Vault Bonus Game.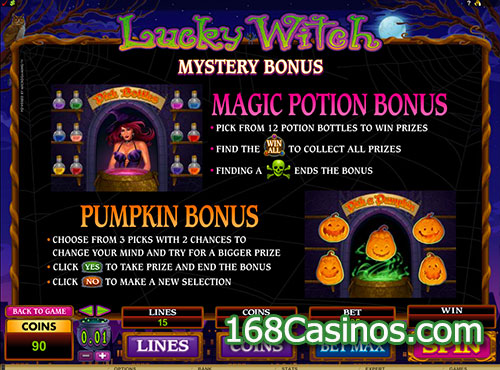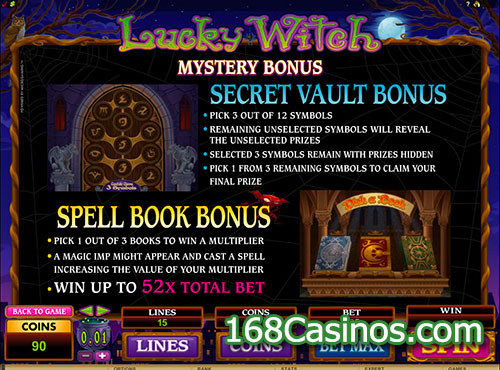 Try Your Luck with Lucky Witch Slot at Jackpot City Casino