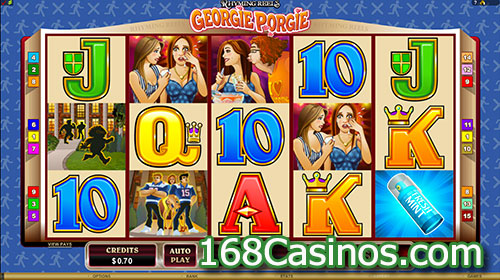 Rhyming Reels – Georgie Porgie Slot is a five reels online video slot which is developed by the Microgaming to supplement its Rhyming Reels slots.
This is again a brilliant attempt to highlight the unique concept and then executing it onto the slot canvas. Georgie Porgie delivers to the expectations with childish visuals which are prominently deigned for the children but this is a slot game which can't be played by kids for money, hence players who love the Rhyming would definitely play it.
Rhyming Reels – Georgie Porgie Slot offers as many as fifteen paylines which is not high but not low as well; in fact, every class of slot players can enjoy it without any hiss. If we look at the visual appeal of this slot series, we won't find any impressive visual or sound support but when we check its gameplay and its smooth running across various remote platforms, we come to know why Microgaming did not add heavy visuals into its gameplay.
The background of the home screen looks like to be a simple but effective blue wall having the texture of a running man and at the front hand, we have the reel matrix having all the game symbols which are again designed using only two dimensional inputs which look immature but they supplement its theme very well. At the bottom of the screen we have all the navigational options which are easy and straightforward, any player – irrespective of his slot experience – can navigate through them. Talking about the game symbols and how interesting they are then let's have a look at them. They are the Georgie, which is the wild symbol as well, Georgie kissing a girl, crying girl, the girl's friends and then those boys chasing Georgie away.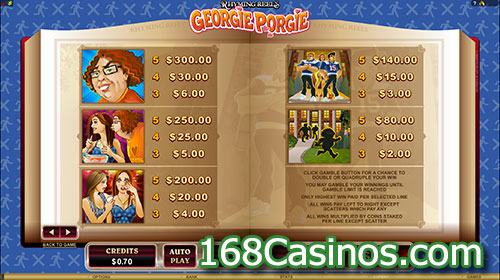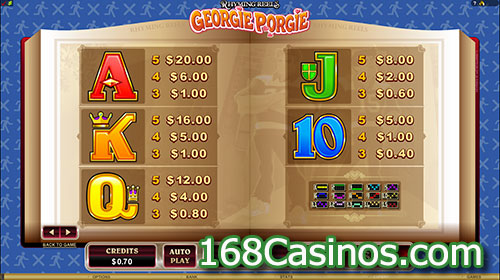 Rhyming Reels – Georgie Porgie Slot Gameplay
If you are convinced with its features and want to play it for real money to check if your luck is with you, you need to pick few basic options like number of coins and their value along with paylines you want your money to be rolled upon. Once you are done with your selection, start rolling the screen by clicking the Spin button and then you experience the rolling screen in front of you with a melodious sound in the background. Your final landing screen will be up in there in few seconds to tell if you have anything in match with the paytable.
If you want to enjoy its extreme version, check its Auto Play option wherein you can roll number of free spins with predefined inputs.
Free Spins
To make its gameplay even more aspiring, Microgaming has added few extra features into its gameplay like a free spin round which is triggered when you get three or more breath spray symbols on the landing screen. If you have it you are rewarded up to twenty five free spins with a 5x prize multiplier with a re-triggerable option until you win a mammoth 975,000 coins if you could get a dream landing screen during every free spin! So, why don't you try it to experience your childhood with a brilliant Rhyming Reels slot like this one?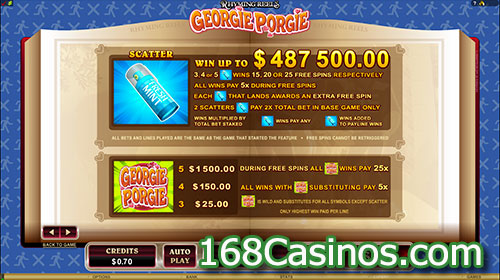 Try Your Luck with Rhyming Reels – Georgie Porgie Slot at Jackpot City Casino