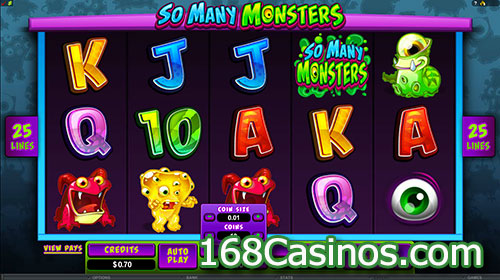 Microgaming has always had several slot variants covering the popular themes and monster is one such theme which is among the most exciting and luring concepts for slot players hence almost every slot developer has more than one variant based around this Halloween theme.
So Many Monsters Slot is one such slot which is a five-reels slot offering as many as twenty five paylines betting options. Having been in the comfort range of most of the slot players, it is already a hit among monster loving slot players and its wagering requirement which is also too narrowed to cover almost every class of slot players.
Precisely speaking any one can check its gameplay with a minimum wager of 25p per spin which can go as high £100 a spin and developer has designed this slot in tune with contemporary requirements, i.e., it supports almost every remote play device including mobile, tablet, and desktop. Before we move ahead let us talk about its build quality and if Microgaming has done any mistake in taking care of each tiny elements of the game.
First of all, we have a nice looking home screen which reminds us we are onto a Microgaming slot game hence we should never expect any substandard visuals or sound support. Second, slot symbols are designed using three dimensional visuals which offer a pleasing experience whenever we hit the Spin and as far sound support is concerned it is also at par with the requirements with eye pleasing sound track whenever reels are rolling or you win a prize.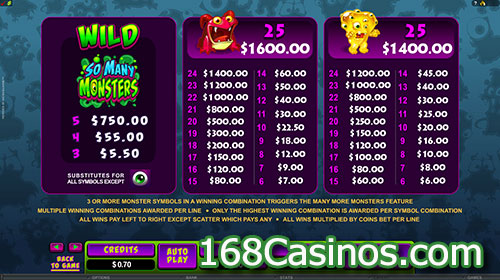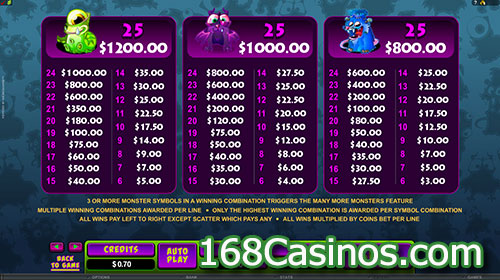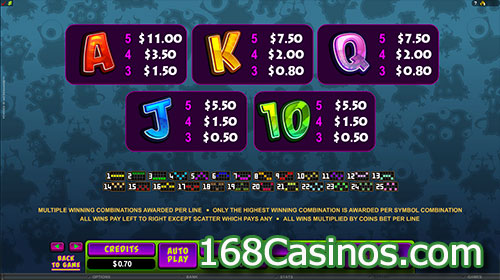 So Many Monsters Slot Gameplay
If you are a fan of Monsters and want to try your luck on this slot, you need to be aware of few things like how many coins you can bet on each of your spin and if it has support for high rollers. Actually, almost every slot game we have today has features to support every class of slot players and this one is not an exception. Anyways, before you start rolling the reels, you need to pick few basic options, like lines, coins, and their values. Once done, hit the Spin and reels will start rolling to offer you your landing screen in few seconds.
Though there are many winnable combinations and you can check them all by hitting the View Table button yet if you are skeptical with its maximum payout, then don't worry, you can still take home a considerable 750 coins if you are playing on your luckiest day.
Extra Features
To make So Many Monsters Slot even more aspiring, developer has added several added features to make your gameplay more exciting like its Free Spins Bonus feature which is triggered when you get 3 or more eyeball symbols, which is the scatter of the game, anywhere across the reels.
In this round, you need to pick one monster out of 5 available on the screen and each of them has a different number of free spins. Remember, lesser the free spins you choose, the bigger your potential win can be.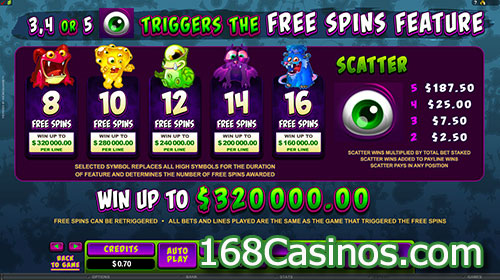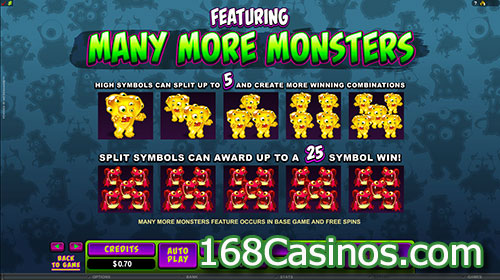 Try Your Luck with So Many Monsters Slot at Jackpot City Casino