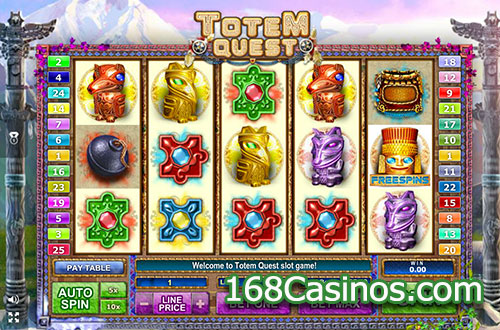 Exploration of ancient civilization has ever been the hottest subject for slot developers hence we have possibly the maximum variants covering the extinct civilizations. Maybe, everyone is curious more about the past hence this area is so dark.
Totem Quest Slot is one such online video slot which is grossly a Native American themed slot and takes you to the ancient ruins of the Aztec cities to uncover ancient relics of a once great civilization.
Totem Quest Slot is a five reels online slot that offers twenty five paylines betting option and to keep it within the range of every slot player its wagering requirements are kept within the range of every slot lover, in fact, you can start rolling the reels with as low as five cents bet per line which can go as high as five dollars bet per line. Visuals of the game are expectedly designed taking great care of the theme so no one could raise a finger on the creativity of the developer. Its home screen is more than enough to tell about its theme and how enticing it has been for aspiring slot players. We have a nice and beautifully crafted reel matrix containing all the game symbols including the high paying ones and background as well looks like to be an unexplored area with a far distance horizon in the view.
Like always, bottom area is where all the navigational options exist and you only have to concentrate on this row if you are playing this slot with some serious money.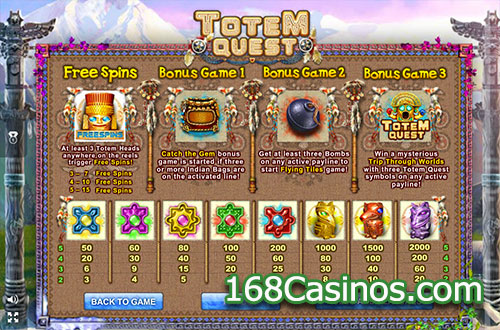 Totem Quest Slot Gameplay
If you are impressed with its visuals and theme and want to try it with real or demo money you can but be careful since demo play does not allow you take home any winning hence it is better learn about the game through the instructions available on the screen and place real money bets to take full advantage of developer generosity. You broadly have to pick few basic options like coins value, number of coins, and paylines you want to bet upon, and once you are done with it, hit the Spin and reels will start rolling to offer you your final landing screen. If you want to check its extreme version, try its Auto Spin and Bet One and Bet Max options which reduce your interaction time so you could better concentrate over your game.
Totem Quest Online Slot Bonus Games
To activate the bonus game, you need to land three or more bonus symbols on the landing screen. In this round, you need to move a bag with a mouse to catch gem stones. Every time you catch the stone your winning increases, so it is an exciting round that motivates you to correctly control your mouse moves. Apart from this, another bonus round is activated if you have three bonus symbols with an image of the totem quest. If you do, you need to make a puzzle during this round. You need to pass each level to enter into the next and there are totally three levels in this game.
Overall, this is an interesting attempt from the House of GamesOS who has tried its best to offer an entertaining gameplay with loads of prizes.