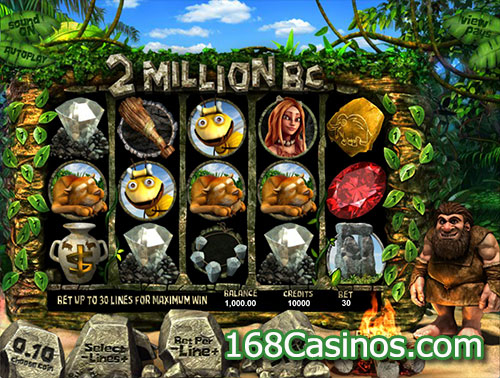 We always have the desire to know more about our past, i.e., how human life came into existence or how would be the age around some 2 Million B.C? Yes, this is something that BetSoft decided to encapsulate on online slots and developed a slot game called 2 Million B.C. Slot.
2 Million B.C. Slot has a five reels gameplay that offers thirty paylines betting option with lots of entertaining add-ons to lure every player's imaginations. First of all, let us talk about the visual appeal of the slot and what is so special about this game in terms of graphic engine and if developer could correctly portray the stone age into reel canvas. The visual appeal of the slot is at par with the expectations, perhaps, home screen is the perfect place to know what this slot talks about. We have a reel matrix that looks like to be made inside a cave surrounded by tree branches, and navigational options, though are at the bottom area, also have the big rocks as the tabs any player needs to click to start the game. Game symbols are as well particles of that age and they are designed using three dimensional inputs that offer amazing experience.
If we talk about the sound support and if developer has done any justice to the visual appeal then be ready to witness one of the finest synchronization of audio and visual in a slot game. Whenever game launches, it comes with a melodious ancient tune and once you start the reels it also offers a perfect atmosphere around you.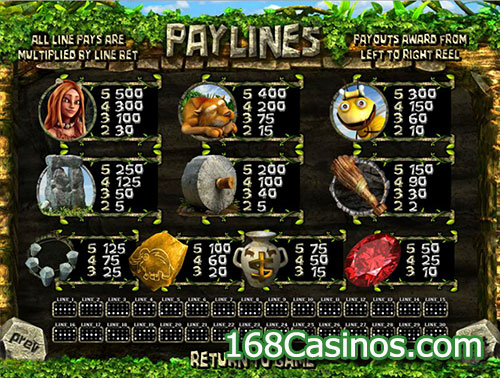 2 Million B.C. Slot Gameplay
To all the players who want to explore the age this slot talks about, developer has put minimum wagering requirement to the comfortable range of everyone like you can start rolling the reels with as low as two cents that can go as higher as one dollar per coin and you can maximum bet five coins per line, so it offers a diversified betting options that brings it into the comfortable range of every slot player. If you assume, being a quarter slot, this game is not going to offer you lucrative prizes, then think again coz here you can win 500x of your bet if you could land a dream landing screen every time you roll the reels.
If you are agreed on the terms and want to go ahead, start picking the base options, like your coin's value, number of coins, and how many lines you want to play with. Once done, hit the spin, and reels will start rolling to offer your landing screen in few seconds.
2 Million BC Bonus Features
To make this slot more aspiring than the competitors, Betsoft has added few bonus features like Free Spin Round which is triggered if you could land three of the fireplace symbols anywhere on the reels. Herein you are rewarded number of free spins with re-triggerable feature so you can again get more spins if you land again the qualifying symbols on the landing screen.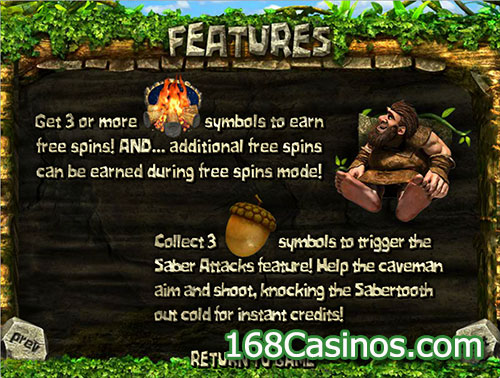 Apart from that, if you have an acorn appeared on reel five, a bird will fly past and you need to grab it. When you have collected three birds in this manner you enter into a game in which you have to stun the sabre-toothed tiger by chucking an acorn at it. If you could do so, you get the prizes.
Last but not the least, there is a Diamond Bonus which is triggered on having three or more of the big diamonds on a winning payline. In this round you task is to rescue a running cavegirl either by attacking the tiger, sneaking up to it, or amusing it.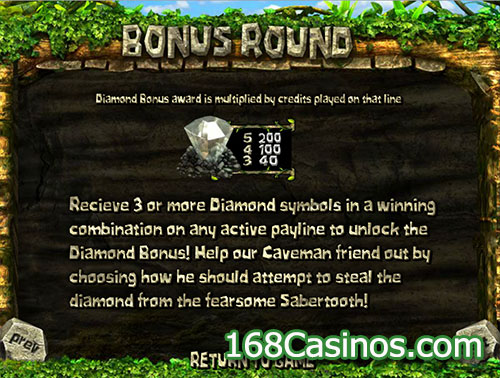 Try Your Luck with 2 Million B.C. Slot at Box24 Casino