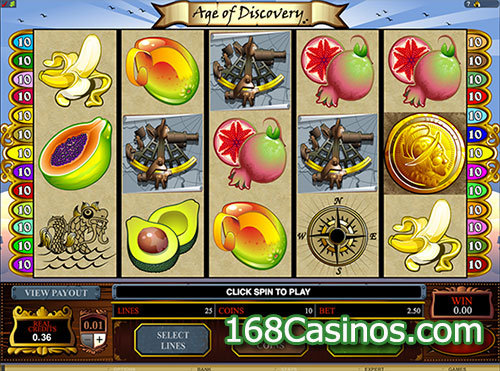 Age of Discovery Slot is a classic fruits slots game with few add-ons, i.e., here, you will find fruits like mangos, avocados, and papayas instead of melons and cherries, yet, overall, it offers a great entertainment at low wager. Basically, it is an ancient theme based slot where you will find two dimensional graphics and since it is developed by Microgaming, it has to have additional features to keep you stuck whenever you hit the spin. It's a five reel three rows slot game that offers you 25 paylines betting options without any minimum wagering requirement that makes it a favorite for the beginners who want to learn something before trying multi payline progressive slots games. Like said, it has very minimal requirement, you can run it on any device, may it be mobile phone, tablet, or an iPad, if you have it you can play it, and one more thing, unlike other games, it plays equally well on small screen, like smart phone, and if you are on a tablet you can experience it in its best form.
Before you start playing, you need to follow a strategy coz there are several things you need to choose from, like number of coins, number of paylines and values of each coin. As far this game is concerned, you can bet ten coins maximum on each payline and value of coin can vary from 0.01 to 0.50 that makes your minimum and maximum bet within 0.25 to 125 range. Since, this is not a slot with high mounting wagering requirement, anyone can afford it, and why not, after all its sole purpose is to lure new gamblers who want to start their slots gaming with little risk.
Age of Discovery Slot Free Spins and Bonus Round
Being a basic game, neither there is a free spin round nor a multiplier which is like a dent on its esteem yet it has wild, scatter, and Click Me Bonus which suffice the basic needs to some extent. The Compass serves as the game Scatter and if you have it three of more times on the landing screen you are landed on a second bonus round where there is a map consisting several X marks.
Map reminds you your school days when you used to find them in your geography books, but here, you get free gift on each click until you hit a skull and cross bone icon which ends the round. If your luck is with you, you can make up to 32,250 coins in this bonus round.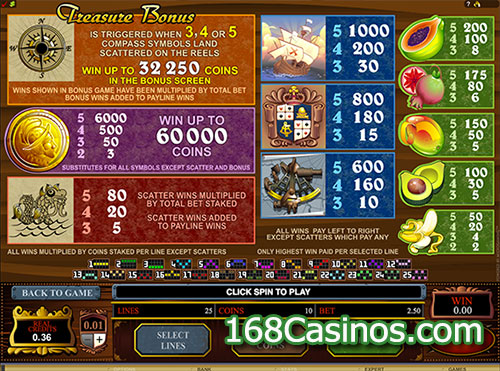 Verdict
Since Age of Discovery Slot is not an advance slot game, you can't expect more from it, yet it creates magic on screen if you are a new player who wants to learn something out of it, or if you want to sharp your skill before moving to advance slots games. Overall, it is not a bad option and contains some cool basic graphic supplemented by theme based sound which is not itching to your ears. Microgaming has done its job by creating a basic but effective slot game that could lure every genre of slots lovers even you can try your luck on it almost with a penny of wager.