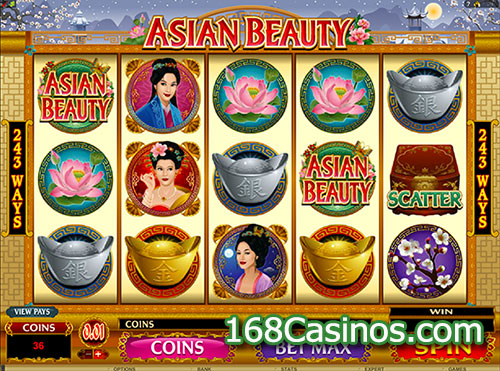 Days are gone when there used to be just five paylines slot games in almost all online and offline casinos, nowadays, you can find multi paylines slots variant with some great features you could have not imagined in early days. Asian Beauty Slot is one such game which is designed by Microgaming and contains some basic but intuitive features.
First thing first, its visuals are honestly not eye-catching as they are just two dimensional ones without any high definition colors or gradient yet they look descent on screen and are perfectly in sync with its theme. Like its names suggests, game simple are all Asian based like a Asian girls, silver and golden cups, fragrant plum trees, delicate lotus flowers, craftily carved wooden boxes and a title symbol which is main one of the game. Wagering requirement is not pretty high, you can place as many as ten coins per payline and there are a long 243 lines to choose from. This means if you are an experienced bettor you can bet up to 2430 coins per spin – a big bet!
Coins value is intentionally kept low, i.e., your coin can be from one cent to fifty cents each making it within the reach of every class of slot lover.
Asian Beauty Slot Features
Asian Beauty Slot has everything you can expect from a slot game plus there is one additional feature that would surly lure you. Apart from regular Wild and Scatter symbols there is a free spin round which activates if you get Wooden Chests symbol, which is the scatter on, for more than three times on the active paylines. This round contains up to 25 free spins. Four Asian beauties bring the special treat for its players which is triggered randomly with a surprise mirror bonus round where you have to click one of the twenty mirrors displayed on the screen. Each mirror has a number associated with it and this is your multiplier. You need to unveil three similar ones which will be your final prize multiplier.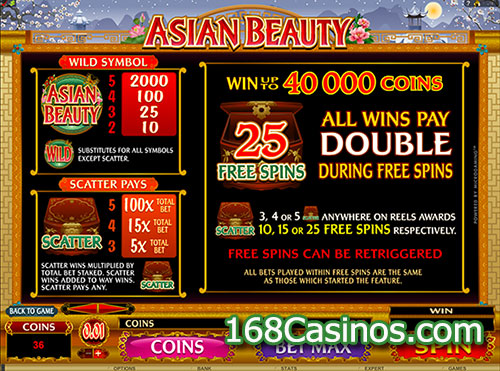 Gameplay
Since Asian Beauty Slot is a game with lots of options, you need to plan your bet well before. Coin values start from one cent and goes up to 50 cents which could be confusing to many but if you are just a newcomer and placing your first bet, always stay on minimum side and then start rolling your bankroll and then head for more advance option including free spins.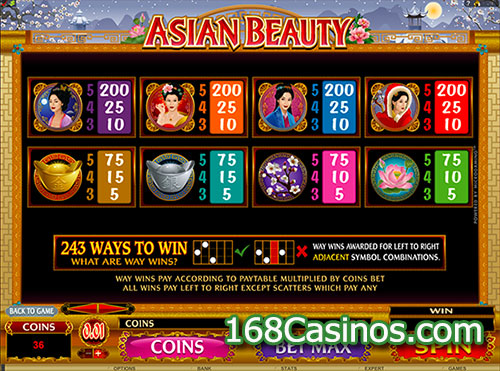 Verdict
Though this slot variant lacks three dimensional graphics and digital sound, yet for its myriad play options, this is definitely a good bet for players looking for an Asian theme slot game and if you club this with its exclusive Mirror Bonus round, it is just like icing on the cake. So, don't wait to try the eye catching beautiful Asian girls with this classy variant of Microgaming slots!
Play Free Asian Beauty Video Slot