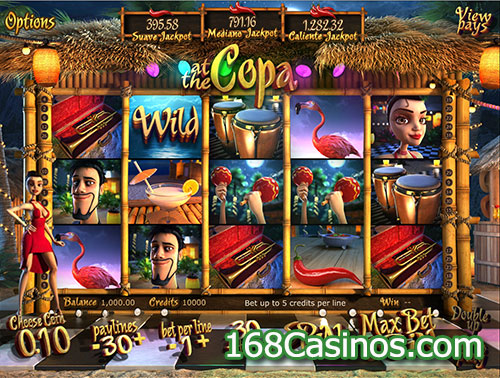 At The Copa Slot is an online video slot which is based on the famous Copacabana beach in Rio de Janeiro and it is specifically designed for fun loving players who always dream of a nice dinner and some eye-catching cocktails at this glamorous place.
Betsoft, the developer of the slot, has kept its true sense alive in the online slot version as well and designed it in such a way that every player could sense the high lifestyle containing the rich bar culture. At The Copa Slot is a five reels slot that offers thirty paylines betting option and not to mention its wagering requirement is kept within the reach of every slot player so more and more players could check its features without shelling out unaffordable sum. If we talk about its audio visuals, then be assured Betsoft is among the few slot developers who use thoroughly three dimensional graphics across its slot games and this slot is not an exception either. We have a cottage like reel matrix that remind us if we are at the famous beach and game symbols are as well in match to the core of the slot so they perfectly support the theme of the game.
Apart from beautifully created visual effects, sound support is the next best thing about this game which offers coolest audio experience whenever a player hits the Spin and wins something. Overall, this slot scores full mark in audio visual department so players could undoubtedly try their luck on it keeping fingers crossed!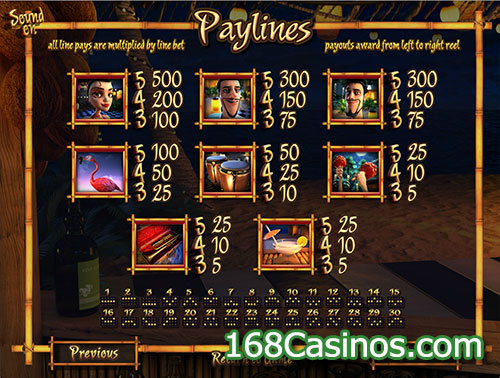 At The Copa Slot Gameplay
If you are the one this slot is designed for, then you need to have a solid game plan to avoid uncounted losses and if you want to enlarge your gameplay you better take each of your decisions with great caution. Anyways, if you are ready with your bankroll and want to try this slot for real money, then start picking the preliminary options like number of paylines you want to place your money upon, number of coins, and their value. Once you are done with your selection, hit the Spin and reels will start rolling to offer your final landing screen in few seconds.
To win something out of it, you should have a matching combination to that of paytable and remember this slot counts any combination from left to right except where scatter plays a role.
At The Copa Video Slot Extras
The most fascinating feature of this slot is its three progressive jackpots. Yes, you read it right, there are three jackpots linked with a progressive pool and they are Suave Jackpot, Mediano Jackpot, and Caliente Jackpot. The first of the three is triggered when five chili symbols appear anywhere on the reels, the second one is triggered when five of these occur on lines 2 and 3, and the third is only triggered if five chili icons occur on payline 1.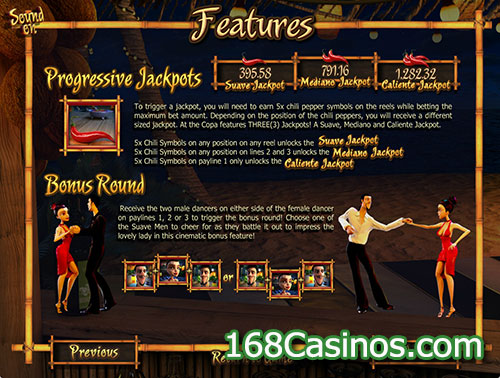 Moreover, there are other regular supportive features like wild and scatter symbols which work in the natural ways and help you win more. Overall, this one is a worth-play slot for everyone who wants to enjoy the life at exotic beach of Copa!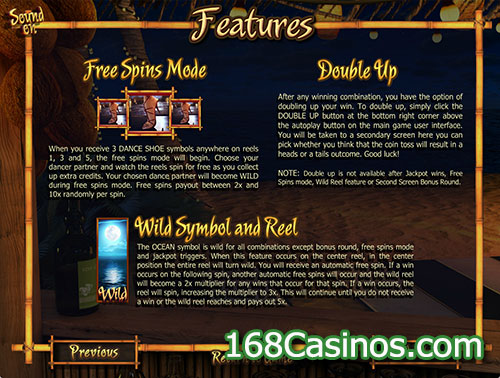 Try Your Luck with At The Copa Slot at Box24 Casino