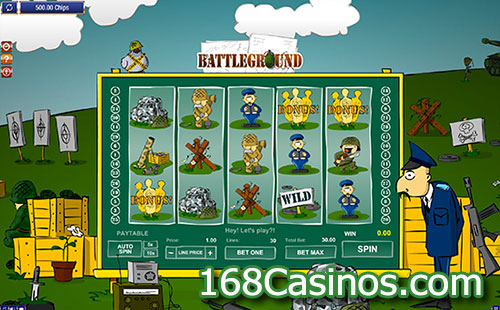 Battleground Spins Slot is another non-orthodox slot variant brought into the online casino market from the house of GamesOs. This is a battle field theme slot game carrying equally entertaining inputs like an enticing gameplay, wild symbol, scatter symbol, jackpot, free spins, and a unique Shoot 'em' up tank Bonus round which adds more beauty to its charm. Although, visuals of the game are not that high end as we find in today's slot games yet it succeeds in creating a battle field atmosphere around you so you can easily understand each of its components like background which is having a clean green background and reminds you a shooting zone along with an army man who stood in the right corner as if he is tallying you how to shoot etc. Basic gameplay includes the thirty paylines wagering option that can take up to ten coins per line. Coins value can be from five cents to five dollars making it one of the most versatile games available in the market. The minimum you need to bet is 1.5 while if you are a high roller, you can place a mammoth 150 per spin and see the magic happening in front of you.
Among all the game symbols, Land mine is the wild one that can help others complete the winning combination for you and its Scatter Dynamite icon is the one that can offer free spins, however, without a prize multiplier. But you need to have them for more than three times, like if you have three dynamite icons on the active paylines you will be offered five free games and if you have four of them, there are ten free spins while you will be given fifteen free spins if you land five dynamite icons on the paylines.
Another interesting feature it carries is its shoot 'em' up tank bonus round which activates if you have three of more Bonus symbols on the active paylines. In this round, you will have to shoot the target using the tank given to you. There would be several ones on the screen. As the rule of the game, you need to hit at least five out of nine hits and as you keep hitting the target, a score starts rolling for you and when you are done with shooting, your total score, in this round, pays you according to the pay table. This is the most interesting round coz you can enjoy hitting the target simultaneous to accumulating winning points that pay you eventually.
Verdict – Battleground Spins Slot
Although, Battleground Spins Slot is not one of the finest additions to slots portfolio, yet it manages to deliver lots of excitement since it carries an interesting theme. Despite its two dimensional graphics, it fulfill players expectations to some extent; you should try to experience its true colors in real time.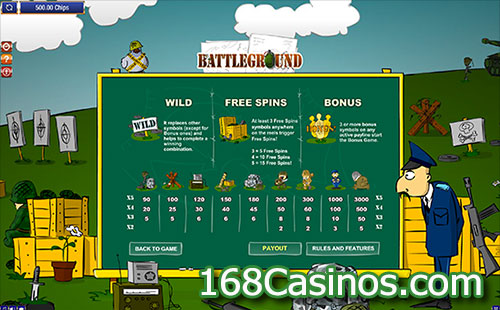 Try Your Luck at Paddy Power Casino