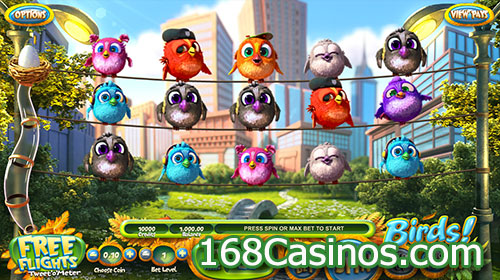 These days online slot gaming has reached to entirely a different level and days are gone when we used to play slots having only two dimensional static visuals and analogue sound support but now we have completely sophisticated three dimensional visual display based slots and they are supported by finely tuned sound which offers a memorable gaming experience to the players.
Birds Slot by Betsoft is one such slot which is among the few brilliant designed online video slots. It has finest visuals and equally appealing sound support that offers an unforgettable gaming experience to its players and not to forget its theme, which is bird, gave developer lots of possibilities to use best graphic engines we have in today.
Precisely speaking Birds Slot is a five reels online slot that offers thirty paylines betting options and to make each of its screen elements equally alluring, developer has placed them on perfect place so players could get a maximum benefit of them. This is useful when new player is trying the slot for the first time since then he can find all the important details at one place while enjoying the astonishing visuals at the same time.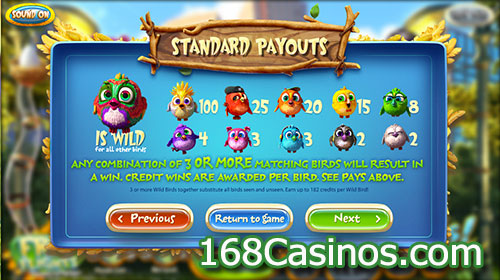 Birds Slot Gameplay
As told earlier, Birds Slot offers one of the finest audio visuals we have in today's online slot market but visual appeal is useless if gameplay is complicated because players expect an easy to go through wagering process without complicated here and there moves and this slot is one of the easier to play slots we have in the market. Anyways, irrespective of his experience anyone can try his luck on the game with minimum amount, i.e., coin range starts with 0.02 and goes up to 1.00 which is well within the range of every slot player and if you agreed on the terms of the slot and impressed by its features and want to play it you need to first pick few basic options, like number of coins, paylines, and value of each coin, and then hit the Spin to start rolling the screen.
Your final landing screen will be there in few seconds to tell if you have something to take home or not. Remember even if you are unlucky to find the straight win, you can be assisted by the supportive features this slot has.
More Features
No matter how brilliant graphics any slot has if it is not rewarding or offering descent opportunities to win something impressive, no player would like to play it and this slot is one such slot which has lots of supportive features to make you win lots of money. Unlike other slots, it does not have the scatter symbols but there is a "Free Flights Meter" to the left hand column of the game's screen which fills up after each winning flight. The more winning flights you accomplish the more free spins you'll receive.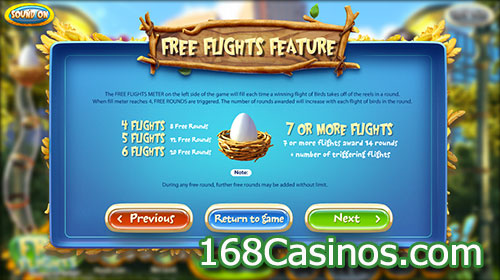 Last but not the least, there is a post winning Gamble round where you can double your wins and herein a Golden coin pops up where you can choose heads or tails an if you do it correctly your winning is doubled else you lose everything. So enter in this round carefully as you can lose everything with just one wrong guess.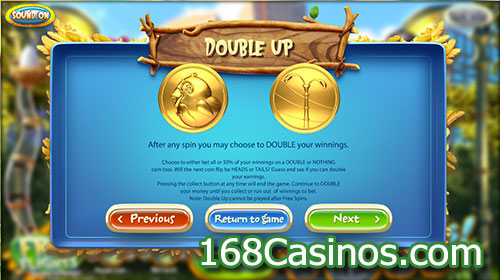 Try Your Luck with Birds Slot at Box24 Casino