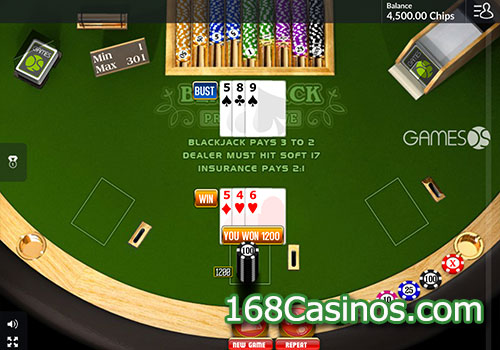 Blackjack has ever been among the few online casino games which are skill based hence no luck works here and whatever you win is purely based on your talent to manage cards and make a winning combination.
Traditionally, Blackjack used to be a classic game with features it has been carrying since the beginning but now to match the trend of online casino industry, developers including GamesOS start adding contemporary features into it and progressive jackpot is the first of them which entices more number of players than any other feature.
Although the gameplay and other conditions of the game are similar to its basic version but players, here, can win a progressive jackpot which is the beauty of it though your need to qualify for the progressive pool by meeting minimum wagering requirements. Anyways, unlike other versions, progressive Blackjack by GamesOS is a three handed version where players simultaneously play up to three hands although each hand is independent to each other and works like three players are competing with the dealer.
Once you are ready with your bankroll and want to play this game, land the game and dealer will distribute two cards face down to all hands and one face up and face down to himself. Each player now has the following options to progress,
Hit – take another card,
Stand – take no further cards,
Double Down – double your bet and ask for one more card,
Split – cards with similar values can be split into two hands and played separately, and last one is
Insurance – which means if dealer's face up card is an Ace, you can pay extra for insurance which will pay back at 2/1 if the dealer beats you with a blackjack combination.
You can pick your stake size by picking the chips from right bottom corner and taking them to the circles available just above to them. In this progressive version of the GamesOS, there is a counter available at the top left corner which tells the current value of progressive pool and if there is something to lure about, you should definitely check your luck playing this game. Anyways, once you are done with your hand, winner is decided after comparison of both dealer and your cards. The whole process is done automatically and if you are the winner you will be notified instantly else start playing the game again.
Among all the casino gaming variants designed by the GamesOS, this progressive version of a traditional card game is popular among all card game players and for that reason other developers got motivated to transform most of the popular classic games into their new avatar carrying progressive pools.