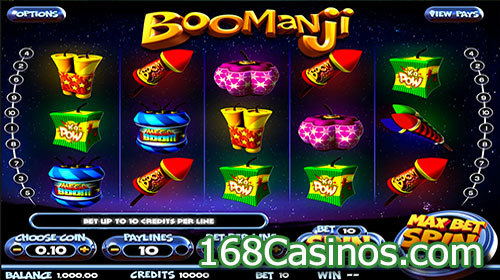 Boomanji Slot is the latest addition to Betsoft's Slots3 portfolio, and like other games by them, this one is also at par with the expectations.
Boomanji Slot is a five reels slot game that offers ten paylines wagering option and yes it is a non-progressive slot yet it has enough features to lure the slots geeks. The luring features of the game is its right to left winning combination which is not like the orthodox slots gaming where you are only paid if you land winning symbols from left to right. When you have a first look, you may get confused with its theme and take it as a gaming version of popular movie Jumanji but it has no relation to that movie except it is equally entertaining and will keep you stuck to it.
Boomanji Slot Gameplay
If you look at its gameplay there is nothing special except the fact that there are only ten paylines which may look odd to you especially in contemporary atmosphere where we have slots offering as many as hundreds of paylines. Anyways, Boomanji Slot allows you to play a maximum of ten coins per line and coin value can range from two cents to five cents and your maximum bet can be of fifty per spin which should not be a problem even for the high rollers. The highest payout you can get out of it is 250 coins which is rewarded if you have five three fireworks symbols on any of the ten paylines.
Although, the most interesting feature of the game – like other Betsoft games – is its three dimensional graphics display that can surprise you. All the reels carrying beautifully designed symbols with a three dimensional interface hence you feel like living with them. Moreover, paylines are also in curved shape enhancing its beauty to the core and if you are playing a 3D slot for the first time, you will feel like playing a whole new generation of games.
Playing Boomanji Slot
Before you start spinning the reels you need to pick few options, like paylines you want to bet upon and number of coins per line along with their values. There are '+' an '-' signs that help you enter your preferred options. Since there is no scatter symbol or a bonus round you will have to rely on the crate of fireworks symbol which is the wild one and helps you complete a winning combination. Though, it does not have any bonus round, new players find it easier than other slots covering several complicated bonus rounds creating more pressure that ease.
Even then its core feature is its graphics along with digital sound support that will surely feel like you are playing a high definition slot variant at a biggest brick and mortar casino. As far its compatibility is concerned, you can play this game on hosts of devices running on minimum memory so you don't need to have a high end device to take its full advantage. You better try it and feel your presence in a real life like world with loads of bounties!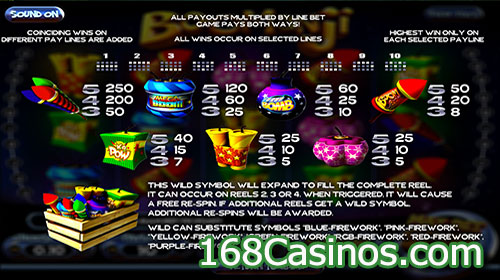 Try Your Luck with Boomanji Slot at Box24 Casino