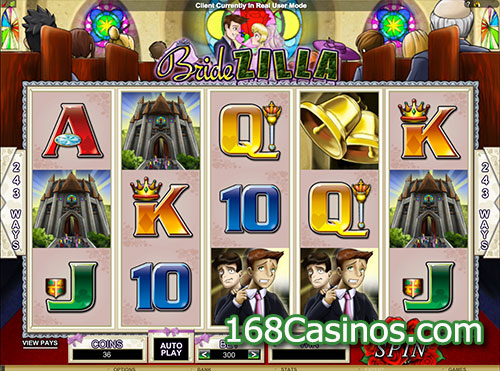 Microgaming is possibly the biggest online slot games developer with more games into its portfolio than anyone else and if we talk about number of theme it covers, it is uncountable and covers almost every popular thing that anyone would like to feel playing as a game. Bridezilla Slot is one such slot game that has been around for quite some time. This is a wedding theme based slot with five reels and offers as many as 243 paylines to bet upon. At its first look it is a high rolling game – thanks to its wedding theme – where you need to bring some cash to take something out of it but when you start rolling its spin, you would realize it is a perfect slot variant to sharp your slot skills without having any confusing inputs like what we found in other contemporary slot games.
You can wager a maximum of one coin per line which is perfectly fine if there are 243 paylines to choose from and its Auto Play feature can also help you spin faster if you are a high roller.
What screen view says about it
The screen look is at par with its core theme where you will see couple enjoying in the background and at center of the screen five feels await you accompanied by its paylines. Symbols of the game are as well according to its theme and you will find alphabets with their status like King or Queen along other specialized symbols which serve as the wild and scatter of the game. At bottom of the screen you can see full payout list combination by hitting View Pays alongside there is your Bankroll, Auto Play, Betting amount and your Winning amount. Lastly, to the bottom right is the Spin with a background crowded by Roses.
Visuals do not carry any high definition graphics yet they do enough to keep you entertaining whenever you hit the spin. The brilliant part of it is background score which catches to your ears and is in perfect sync of the theme.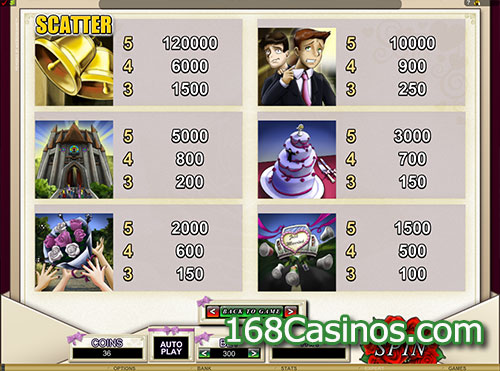 Bridezilla Slot Gameplay
Game starts with minimum configuration and if you want to play Bridezilla Slot, you need to pick few options, like number of coins with their values, number of paylines you want to bet upon and rest of the job is done by its algorithm which starts working when you hit the Spin. There are few additional helping hands to make you win maximum amount out of it like a wild symbol that can replace any other icon of the game along with six scatter symbols which pay you a maximum of 240000 coins if you could get three or more of them on the active paylines.
With so many winning possibilities this game does not ask you to wager too much, like you can play it from as low as one cent to ten cents which is enough to entice any slot lover. So, you should try it to sense the glimpse of a wedding without shelling out your pocket too much!

Try Your Luck at Vegas Palms Casino