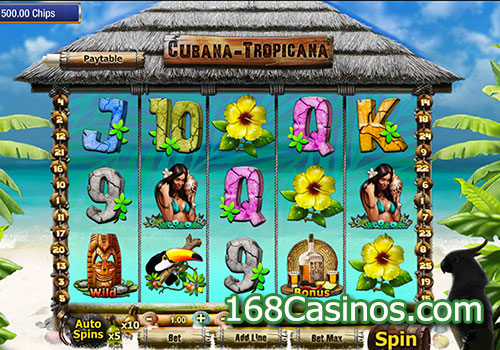 Cubana Tropicana Slot is one of the unique slots variants we have in the market, it is unique in many ways, like it is developed by the Viaden software which is apparently not a known developer in the market but since they have some kind of technical collaboration with Playtech their games are displayed as being developed by the house of Playtech. Cubana Tropicana Slot is a five reels slots game that offers as many as nine paylines betting option. Like its name suggests, it is a Cubana theme slot where you will find beautifully designed beach view right on the home screen. Further, when you start playing, you will notice it is truly a Caribbean theme slots that has everything you can expect from it including three dimensional visuals and a significant house edge which is very rare these days. Let us talk about its visuals and how you can feel being like on the beach whenever you start rolling the spin.
All its icons are carefully designed to give you a cool feel like if you are yourself roaring around the eye catching natural surroundings of a Caribbean beach. Moreover, the presentation of the slot it also luring since it has rather a unorthodox kind of eye catching positioning of the reel matrix which is brilliantly settled inside a cottage covered by the paylines. Once you start rolling the reel, you will feel the natural sound of creatures that feels you special.
Since this is not the product of a big casino games developer, you won't find it in most of the online casinos but if you do you can enjoy it tremendously thanks to its minimum wagering requirement along with additional add-ons like Free Spins, Wild symbol support, which is the Wooden Mask, and a bonus round that enhances your winning odds. Anyways, if you are playing it for the first time, you need to know its feature, like how many coins you can bet per line and how high you can go with your wagering. No matter how experienced you have been in online casino gaming, you need to take care of its house advantage which is a big 5.59% that is something you won't find in online casinos today.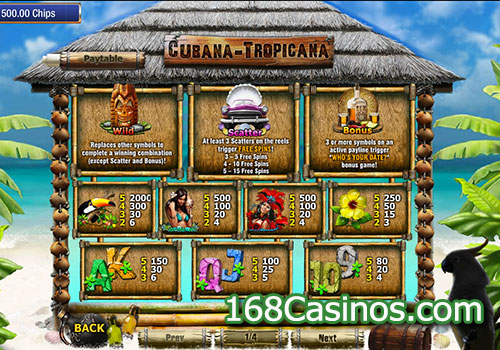 Cubana Tropicana Slot Bonus Round
There are two bonus rounds to help you win more: First one is rewarded when you get 3 or more 'Car' symbols, which is scatter, anywhere on the reels. You are given 5 to 25 free spins based on how many Car symbols you have on the landing screen. Second bonus round is activated when you have 3 or more 'Rum' scatter symbols anywhere on the reels and herein you are taken to the screen having 5 blind covered reels. You need to click one of the blinds to reveal a lady who offers you a surprised prize.