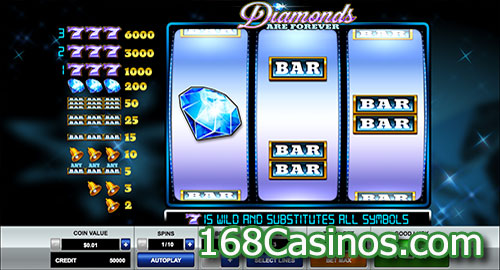 Classic slots have ever been the most revenue generating slot variants for every slot developer and for that reason these providers of the casino games keep their popular traditional slots alive by aggressive marketing and this job is done by the content rich games which keep luring more and more players into their fan base and Pragmatic Play is one such operator who has lots of classic slots under its portfolio which are still popular as they used to be when launched including Diamonds are Forever Slot which has a three reels gameplay and offers there paylines betting option. Likewise, what its name suggest, it is a luring theme based slot called Diamonds and everyone is supposed to lure these gemstones in our life and most of us can't get them hence we try to get the feeling of having them through a slot game like this one.
Diamonds are Forever 3 Lines Slot has familiar symbols we find in all classic slots like triple seven, bars, bell, and of course diamonds and highest paying among them is the triple seven.
Those who are skeptical about its wagering requirements need not to be worried as there are hosts of betting options like $0.01, $0.05, $0.10, $0.20, $0.25, $0.50, $1.00, $3.00, $5.00 and your minimum and maximum bets can be in the range of $0.03 and $15.00.
Diamonds are Forever Slot Visual appeal
If you are a fan of classic slots and want to try your luck playing this slot, you can start rolling the reels but before that let us have a look at its home screen which is a typical representation of a classic slot. We have the three vertical reels at the top left side while right hand side is reserved for the complete paytable.
Bottom area is where all the navigational options are available to choose before you hit the Spin. Anyways, if you are satisfied with its audio visual appeal and want to play with real money, start picking the base options, like coins value and paylines and last step is to hit the Spin that will start reel rolling upward down. Your final landing screen will be there in few seconds.
For high rollers, there are few additional options like Bet Max which can select the highest bet of the game and Auto Play where you can simultaneously roll multiple spin without picking the base options again and again. These features are helpful for expert users who are willing to enjoy the extreme form of the game.
Wild Support
Since this one is a traditional slot, you won't find any contemporary feature like free spins or multiple bonus rounds to keep its feel alive but to enable players get some kind of support from developer's corner, there is a wild symbol – Seven symbol – which helps players complete a non-matching landing screen by substituting non match symbol and this is more than expected from this class of a slot variant.