Online slots portfolio is filled with lots of Dragon theme slot games but Dragon Dance Slot designed by Microgaming is clearly a stand apart. Dragon Dance Slot is a five reels slot variant offering as many as 243 paylines betting option which is way too higher than other slots around similar theme and as far its visual appeal is concerned, it is simply outstanding though it does not have high end three dimensional graphics.
First, let us talk about its basic theme and how far you can go with it if playing on your luckiest day and you will be surprised to know despite not having any specific wagering requirement it allows to win as many as 60000 coins if you land dream landing screen every time you hit the screen. Although, highest payout is always indicative, we have several other add-ons to win something out of it whenever we hit the spin.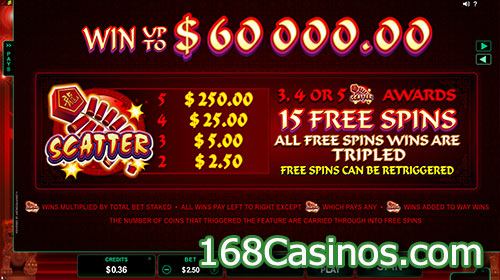 Dragon Dance Slot User Interface
User interface is quite simple and straight forward without any messing options. You need to only pick the options mentioned therein and rest is the game of your luck how game algorithm plays in your favor. Game symbols are all two dimensional with basic visual appeal but since it is an Asian theme based game and rolls around dragon, it is more than enough for every class of slot players. Like its name suggests Dragon Dance in two colors are the key symbols of the game and you have to concentrate on them only even if you are in the bonus game. Golden one among them is more luring for obvious reason, like if you could have it on every reel of the landing screen, you can win a maximum of 20000 coins which is like a jackpot in itself.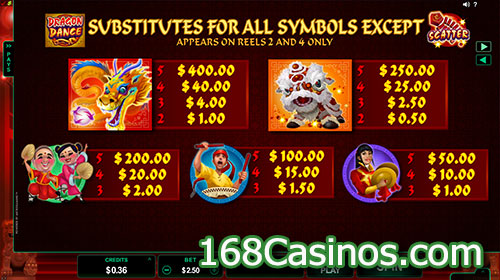 Highest Paying Symbols
White Dragon icon is equally rewarding and pays you 12500 coins if you have it on all the reels of the landing screen. Other paying icons are its woman performing a fan dance that pays up to 10000 coins, a cute Chinese Girl that can reward you 2500 coins, and Chinese-themed Poker Symbol which can add more up to 1,000 coins into your bankroll. Being a slot based around the Dragon Dance, which happens to be the popular street festival in China, this game draws a maximum crowd from this Asian region and then its fans are residing in every part of the world.
In short, Microgaming did a complete justice to the core theme of this game by putting every possible feature into it. May it be its wild symbol, scatter one, or even its intuitive bonus round it scores an edge in every aspect, you should play it to feel the best slot action all around.