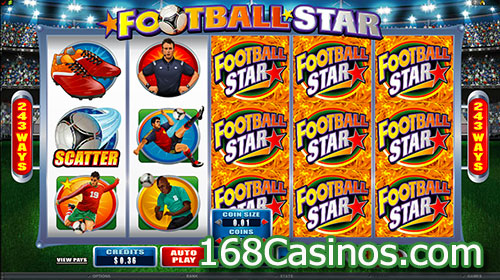 Football Star Slot is a five reels slot game based around the craziest sport Football. It is a Microgaming product hence perfectly delivers the excitement and enthusiasm football players enjoy during every game.
This is primarily designed for football fans who are always in mad mood whenever their favorite team is in the field hence its visuals are so created. You will find the whole stadium in the background with thousands of spectators watching the live action. At center, there is a reel matrix consisting 5×3 rows of symbols and not to mention all the symbols are in match to its core theme like The game logo, football shoes, football, and players in different actions. Bottom area is where you need to pick your betting options like how many coins or how many paylines you want to bet upon.
First thing first, let us talk about if Microgaming could deliver a perfect copy of live football game, and yes they did but with few flaws. Like, they should have used the three dimensional visuals that could have portrait the game better, second, the sound of fans sometime itches to the ears hence it could have been better and smoother.
Otherwise, game build quality is very good which virtually carries no glitch or lag irrespective of the play device you are using. Being a football based slot, there has to be mega offers in its den, and likely so, there are 243 paylines to choose from which provides plenty of opportunities to each player to complete a winning combination faster than ever. Moreover, it is primarily designed for high rollers who can place as many as ten coins per line to make their total bet highest possible. As far coins value is concerned, it can take anywhere from one cent to ten cents per coin which is enough to cover almost every class of slot players.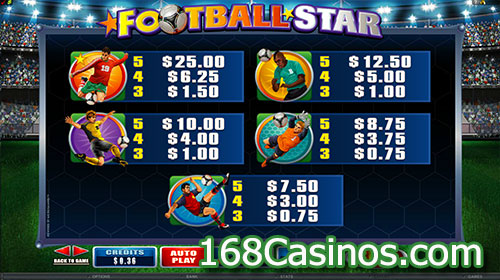 Football Star Slot Gameplay
Like said, Football Star Slot is a Microgaming product hence there has to be minimum confusion whenever you are onto it. First you need to decide how much money you want to wager on each spin and then choose the number of paylines you should bet upon. Then pick the number of coins with their value and then hit the spin. Your landing screen will be there is few seconds to tell if you have any winnable combination on the screen.
To offer equal winning opportunity to each player, there are few helping hands, like wild symbol, which is the game logo, and it helps you complete a winning combination by replacing every other icon of the game except of course scatter one which is Football and it offers free spins if you could land it for more than three times on the landing screen with a prize multiplier.
Conclusion
Despite having countless football based slot games in the market, Football Star Slot is clearly a stand apart. This is a brilliant effort from the team of Microgaming and they deserve applaud from its fans who liked it right from the day it was first launched.

Try Your Luck at Royal Vegas Casino