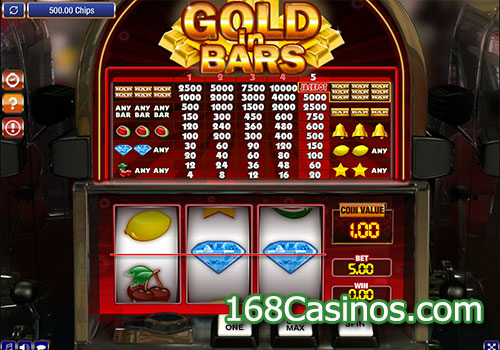 Gold in Bars Slot is a typical three reels slot game having just one payline wagering option with connectivity to progressive jackpot which is the key feature of this CTXM powered slot. Being a basic slot game it does not have any confusing options.
Right from the moment you log into the slot, you start sensing the simplicity it has in store for you like its very cool three reels gameplay that reminds you as if you are playing a slot game in brick and mortar casinos on a live console of eighties and if we look at its wagering requirement, there is simply one dollar coin available and you can wager a maximum of five coins. If you look at the home screen which has a typical offline casino background, you are forced to play it since everyone wants to play slot in offline casinos sometime to enjoy the live impatience being shared by him along with others and for that reason this game is popular among classy slot lovers.
Gold in Bars Slot Gameplay
As told earlier, there are no messy options to choose from, you only have to pick how many coins you want to bet since they are valued one dollar each. If you feel confused even then, you can hit the Bet One or Bet Max to start rolling without being puzzled with other options. Anyways, once you are done with your options hit the Spin and screen starts rolling to offer your landing screen in just few seconds. Since Gold in Bars Slot is just one line slot that too is visible on center of the reel matrix, you don't need to look anywhere except on the top where all the payout combinations are available. Look wise, it is down to earth basic slot game which lures first timers more than the experienced or the players who want to relive the initial slots days playing online.
High Paying Symbols
Since it a classy slot, you will find all the symbols that used to be in use during those days, like cherry, stars, diamonds, lemons, watermelons, bells, and bars. Among them 3 triple bars is the highest paying one which can win you a jackpot if you have three of them in active line. Second most rewarding symbol is the 3 double bars which can give you 5000 coins if you are playing a five-dollar bet. Rest symbols come thereafter and their payout is clearly visible on the top.
If we talk about its progressive connectivity which is rare to find even in high end casino games, every wager's 2% is contributed towards the progressive pool which keeps piling until a player claims it and at the time of writing this review, its progressive jackpot has gone beyond 15000 which is surging slowly but steadily.
Conclusion
Being a classical slot game, Gold in Bars Slot has everything you can expect from that era slots games. It visuals appeal is enough to remind what you are playing and what not to expect from it. Even then progressive connectivity is a bonus for its fans.