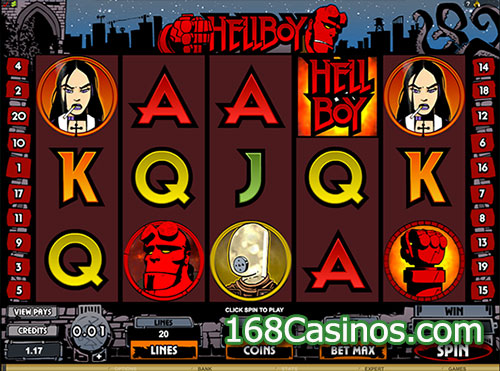 The tradition of developing slots variants based on popular comic or Hollywood characters is not new, in fact, it has ever been a fruitful idea to link your slot game with a popular character who already has a fan following.
If you could do so, half of your job is done since you then do not need to invest heavily on marketing of the product and Hellboy Slot is one such slot game from the house of Microgaming which deals with the popular movie character of the same name. Hellboy Slot is a five reels slot game which offers twenty paylines betting option and as far its wagering requirement is concerned, it is intentionally kept lower so every class of slot players can enjoy its horrified gameplay. You can range your bets from as low as once cent to as high as fifty dollars per spin which is descent and covers more than eighty percent of the slots players hence Microgaming, in a sense, did a good job to design a slot that truly encapsulates the popular movie on the reel canvas.
Hellboy Slot Visuals
Let us talk about how the visuals of the game are and if they live to the expectations players build from the Microgaming. Even though all the visuals carry two dimensional interface which looks quite itchy when you first look at them but once you start rolling the screen and enjoy the complete gameplay along with its sound support and you forget about the shortcoming of three dimensional display and enjoy its peak with multiple spins simultaneously.
When you start Hellboy Slot game you see a city center skyline in the backdrop with a reeks matrix on the front. This matrix consists 5×3 rows containing all the game symbols which are in match with its core theme like characters from the film Hellboy, Liz Sherman, Abe Sapien, Trevor Bruttenholm, and a baddie along with other lower value ones like 10, J, Q, K and A. Bottom area is where all the navigational inputs reside and you can decide how much bet you want to wager on how many paylines per spin.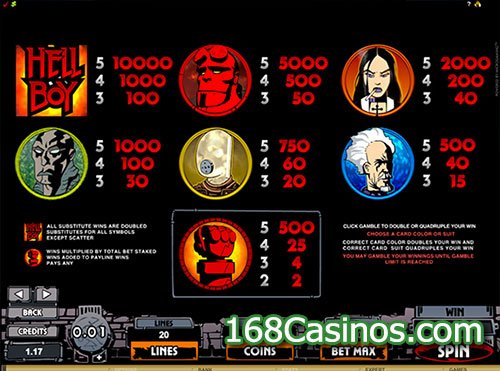 Hellboy Video Slot Bonus
Being a Microgaming powered slot game, there has to be several bonus rounds to lure your imagination and first of them is Underworld Bonus which is triggered when you get three or more of the red fist symbols anywhere on the reels. Herein you need to guide Hellboy during four levels of tunnels making the right choice each time simultaneously to ultimately progress to the Relic of Power which gives the award.
Another bonus is Supermode which is again rewarded randomly and offers you the free spins to enhance your winning. In these free spins, three reels turn wild to help you complete a winning combination faster. Last but not the least, there is a Gamble round where you need to guess the color of the playing card to double your winning and if you want to quadruple it, you need to predict the suit as well.

Try Your Luck with Hellboy Slot at Jackpot City Casino