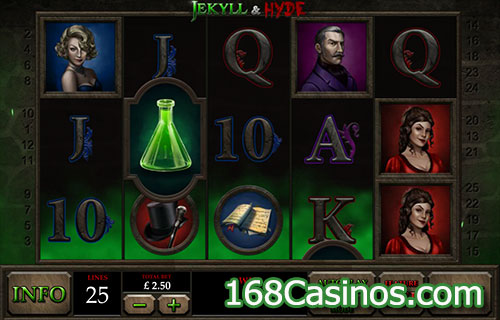 There have been countless online video slot games which are based on popular novels and they all are good enough but few of them proved to be mega successful and Playtech powered Jekyll & Hyde Slot is one such game which is based on Robert Louis Stevenson novel of the same name that he wrote back in 19th century. The novel was basically a tale of Dr. Jekyll who transformed into Mr Hyde and faces the consequences.
Jekyll & Hyde Slot is a five reels slot game having twenty five paylines betting option along with other luring add-ons which help you win more and more during the course of the game. If we talk about its visuals and how good they are, you will simply be not disappointed looking at great work done by the team of Playtech, although it uses only two dimensional visuals yet this game scores an edge over its rivals thanks to the brilliant sound support that creates a virtual ambience around you.
Game symbols are truly in match with its core like scrolls, top hats, Jekyll (and Hyde), 2 female assistants, and potion bottles along with low paying ones 10, J, Q, K and A. Among all of them, Dr Jekyll is the highest paying and gives you 1000x if you could land it five times on the landing screen. Since Playtech designed this game keeping in view every class of slot player, its wagering requirement is kept on the down side like you can start rolling its reels from as low as twenty five cents to as high as 12.5 dollars per spin which is not bad considering its target group.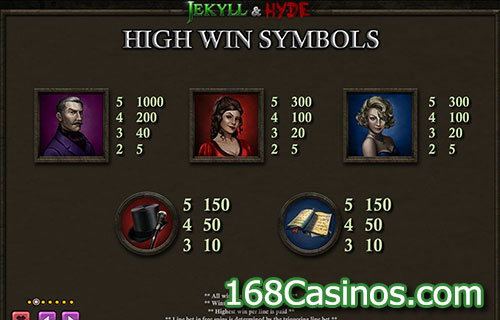 Jekyll & Hyde Slot Gameplay
As told, this is one of the most beautiful slot games based around the theme hence Playtech has tried hard to keep its user interference simple so they put all the navigational options at the bottom which is most common place for a slot game. Anyways, before you begin your rolls you first need to have a solid strategy about your bets like how much you would wager into how many bets and once done start picking your options one by one.
First, pick the payline you want to activate and then how much coins you want to place on each of them. Last step is to hit the Spin and reels start rolling in front of you. If you are lucky enough and get a winning combination, you are informed with a cheering sound if not play the game again.
Meantime, there are several add-ons that help you complete a combination like wild symbol – which can only appear on reels two, three and four – and scatter – the green potion -along with other unique bonus rounds. Like expected, scatter activates the free coins round with a multiplier if you could land three or more of them on the landing screen. The only thing you need to take care while playing this game is every time you land a scatter on reel five, a portion in the bottle is consumed and after four such hits, the round is over.