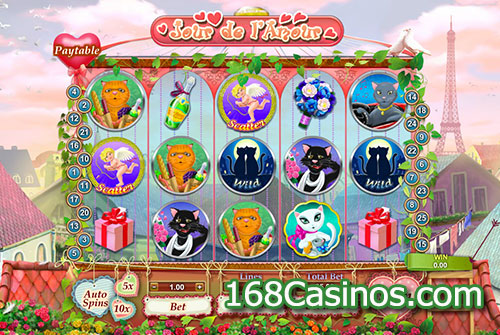 Jour de l'Amour Slot is a French romantic theme online video slot game which rolls around a five reels gameplay. Jour de l'Amour Slot is developed by GamesOS/CTXM and carries 25 paylines gameplay which is more luring than it looks when you are first onto it.
Being a romantic theme based slot you get all the beautiful flowers and greenly on the home screen itself while background of the game looks like a village yet it cools your mind whenever you land it on your screen. Apart from its home screen and background, all the navigational options are also creatively designed keeping in mind its core theme hence you will find Hearts with glittering border all around the table and you need to click them before you start rolling the reels. Let us talk about its visual appeal and how compatible its sound support is and you won't believe it is one of the masterpieces around this genre despite having just two dimensional visuals and its sound support is just outstanding to make you feel the pleasure of romance whenever you are playing this game.
Before you start your first roll
If you are playing this game for the first time or if you are new to online slot gaming, then you will find its home screen pleasing itself and then you need to pick few options before you hit the spin. All the options are there at the bottom with two major tabs, Bet and Lines. You can increase or decrease both of them but clicking '+' or '-' signs and your total bet will be there on the adjacent tab. If you do not want to pick all those options or you feel messy interacting with them, you can opt for the Auto Spin mode with 5x or 10x auto spins with predefined inputs. When you are done with your selections, hit the spin and you screen starts rolling to give you your landing screen and if there is something in match with the paytable you win accordingly else start playing again.
Jour de l'Amour Slot is just a one coin per line slot hence you can range your bet from as low as 20 cents to two dollars per line making it within the range of every slot player.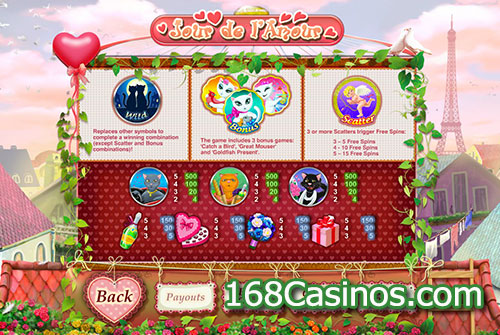 Jour de l'Amour Slot Add-ons
Like most of the slots available today, you find lots of helping hands in here too like wild symbol (cats with the Moon in the background), scatter symbol (Eros), and free spins around which enhance your chance to win a prize with each of your spins. In fact, if you are lucky enough to land a dream landing screen every time you can win as many as 9000 coins on your luckiest day! As far its compatibility with mobile device is concerned, you can play it on hosts of play devices like Mobile Phone, iPad, Tablet, and traditional desktop computer which is more than enough to bring almost every slot lover into its vicinity.
Overall this is a romantic slots game which gets a surge in its popularity around festivals like Valentine's Day. You should play it to sense the pleasure of being romantic for your lucky charm!