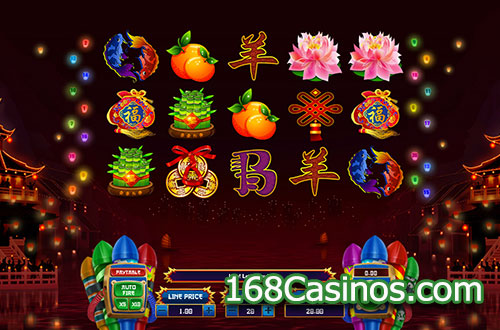 Midnight Lucky Sky Slot is a GamesOS/CTXM powered five reels online video slot game that offers as many as twenty paylines betting option.
Midnight Lucky Sky Slot is a slot game having some creative graphics and an unusual screen appearance of all the game elements, like if you land its home screen you can find out the difference from other contemporary games available in the market. Visuals are completely in match to its name, as we have a dark night scene in the background and few houses on both and left and right side of background with glowing lighting in them. Reel Matrix is also impressive one as it does not have any border, perhaps, it feels like all the symbols are hanging in the sky but they are not as they are perfectly lined up and ready to offer an exciting gameplay. If we look at the game symbols they are typical Chinese based icons like colorful hieroglyphs, fireworks, fishes, paper lanterns along with other low paying items and they all are some way or another related to Chinese culture which lets us believe this is a true Asian biased slot game.
Moreover, there are three more special symbols which tell about themselves like W, which is Wild, S, which is the Free Spin symbol, and B, which happens to be the bonus symbol of the game and they all work in their natural way offering you great opportunities to win but we will talk about them in detail later.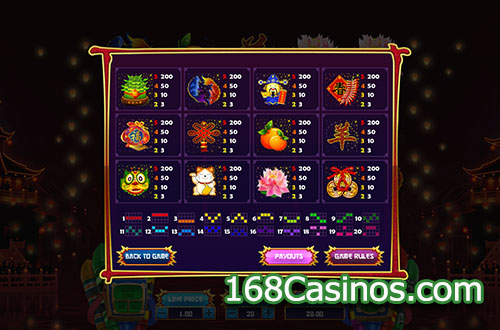 Midnight Lucky Sky Slot Gameplay
Though every slot has common gameplay except the fact that each of them is different with few of its features and this is the case with Midnight Lucky Sky Slot too. Although options that you need to pick are decorated in the bottom area, yet you need to have a solid plan to start your gameplay else you can lose your bankroll in no time. However, if you are ready with your strategy, start with picking up the coins value and then number of lines you want to start with and last step is to hit the Spin – sorry – Fire which is the uncommon name given to start the roll. In few seconds your landing screen is up in there to tell you if you have won something or not.
Moreover, there are few options to speed up your gameplay like auto spin which has 5x and 10x options to roll five or ten spins for you simultaneously. And if you want to play with the maximum amount, simply hit the Bet Max and 20-line will selected for you.
Extra Features
As told you, Midnight Lucky Sky Video Slot has few supportive features that help you win more and they are wild, scatter, and bonus symbols. Wild symbol helps you complete a winning combination by replacing any non-matching one except the scatter symbol, and scatter symbol is the one that offers you up to fifteen free spins if you have it for more than three times on the landing screen.
Likewise, bonus symbol helps you enter into the bonus round where you have to choose one of the fly flaps to find out an amount of the prize written there.