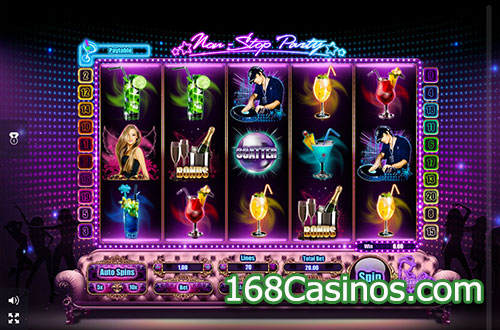 If you are a lively person who is fun loving and always expect an action, then Non-stop Party Slot is the slot which is designed by GamesOS for you and if you are an extreme slot player already then you can enjoy its peak excitement playing its auto spin and fast running modes.
As its name suggests, it's a Party theme slot game hence all the symbols are designed in line with its core where you can sense the party right from the moment you land its home screen which is shiny, glittering, and carrying disco in the background. Reel matrix is also having several party animals as the symbols like blonde and brunette, muscly guy, and DJ. Apart from these basic symbols, there is a bottle of Champaign and two glasses which is the scatter one and offers number of free spins on having it on the landing screen for more than three times. If we start with its visuals and how creative they have been designed by the developer, then you will be surprised to find so much detailing in each screen element including its bottom area which has all the navigational options to choose from.
When visuals are so catchy then how GamesOS can miss on sound department hence they have done their best to deliver a pleasant experience whenever we are playing a real money play. And not to forget Non-stop Party Slot is five reels slot game that offers twenty one paylines to bet upon so you have lots of options to range your wager if you want to experience its gameplay.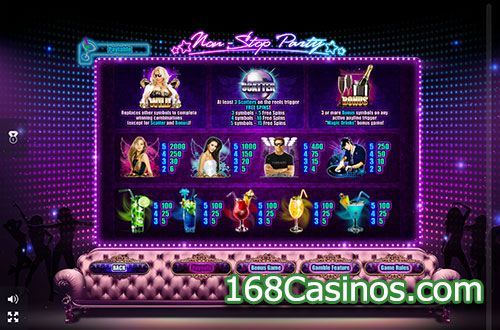 Non-stop Party Slot Gameplay
Like said, this is one of the finest slot creations on a party theme so its gameplay has to be easy going without any confusing navigations and righty so GamesOS has done its best to put all the options at one bottom place which is the core area to concentrate on for the players. You only have to pick the number of coins and lines along with their values and then last step is to hit the spin and your reels start rolling offering you final landing screen in few seconds. You can easily feel the brilliance of visual effects when reels are rolling along side of glowing animations that is more pleasing than ever.
Not to forget it is one coin per line slot hence you only need to pick number of coins and their value which can range from five cents to twenty cents bringing it into comfortable range of every slot player.
Non-stop Party Online Slot Extras
No slot game is complete in contemporary era without having at least few supportive features for its players which help them win more and more and here we have Wild Blondes, Brunette Scatters, a Drinking Game Bonus, and a Gamble Feature which are as lucrative as they should be. If you are playing this game in auto spin mode you can experience its smooth run in high action too.