Paradise Found Slot is an unorthodox Microgaming powered five reels online video slot game which has twenty paylines wagering option. Why we call it an unorthodox coz of its theme which is based around ambient Himalayan which is not considered as the hot selling theme anywhere but Microgaming decided to take risk by creating a slot that rolls around it and they are right on the track as it was a hit right from the moment it was first launched in Microgaming casinos.
Although, its visuals and sound support do not carry any high end fancy features but they suffice the needs thanks to the images developer has used to represent its symbols which are ornate gold cup, a prayer wheel, and finally a laden-down buffalo along with low paying symbols 10, J, Q, and K.
Background is a far situated series of mountains which reminds us what we are playing and if look over it broadly, we can assure Asian players are going to love this for the theme and characteristics Microgaming has included in it. Paradise Found Slot is grossly based on Peter Hopkirk's fascinating book 'Trespassers On The Roof Of The World' which is a hot selling book among players who have an interest in this region.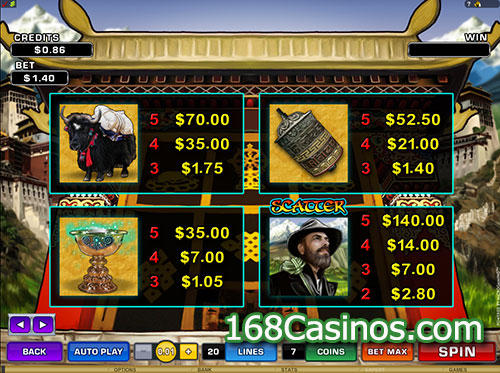 Paradise Found Slot Gameplay
Being a Microgaming slot variant, you can't expect it would be carrying loads of confusion; perhaps it has the simplest traditional slot like gameplay where you only need to pick few options and rest of the job is done by the game algorithm. First, we need to have a look at its wagering requirements and if there is any hidden condition. If you are interested in playing this slot, you need to range your bet from as low as one cent to as high as one dollar and since it has the twenty paylines and you can bet a maximum of ten coins per line, your maximum bet can be of 1x20x10 = 200 coins which is enough for almost every class of slot players. Let us now talk about its gameplay and what you need to do to start our first roll.
If you closely look at the bottom area of the screen there are three major heads: Line, Coins, and plus and minus signs. You need to start with picking your coins value and then move slightly to right side to pick other options like coins and line. Once done, hit the spin and reels start rolling offering you your final landing screen.
Paradise Found Video Slot Add-ons
To make its players win more and more, Microgaming has added few supportive features like wild, scatter and bonus round that empower players to win more than expected. While beautiful yellow lotus flower is the wild symbol of the game it also triggers the Wild Lotus Bonus if you have it on the active paylines. Likewise, The intrepid traveler is the scatter one of the game which can raise your winning amount by up to 100x if you could have it for more than three times anywhere on the landing screen.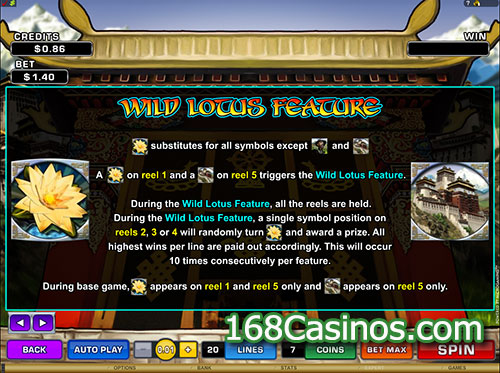 Try Your Luck with Paradise Found Slot at Jackpot City Casino