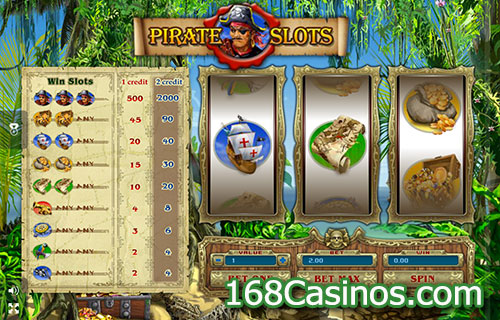 Pirate Slots is a classic slot designed by the creative maestro GamesOS. Why this game is labeled classic because of its one line gameplay which is rare to see in contemporary slot market. But anyways, no matter how many lines it offers to bet upon, it is as interesting as any other slot having lots of paylines could be and GamesOS has taken care of other features to compensate on fewer lines which are intentionally done by the developer to keep it basic and attractive for the first timers.
The home screen itself is completely filled and decorated and each part of the screen has something to inform you, like, on top left there is the paytable containing all the winnable combinations and at the top right we have the reel matrix having three vertical reels containing the game symbols. Not to mention that all the symbols are in match with its core theme hence you will find pirate ship, canon, treasure map, pirate, along with others over there and since it is a GamesOS product, expect the three dimensional visuals with equally appealing sound support.
Pirate Slots Gameplay
Being labeled as the classic slot, you can't expect it to have confusing options to choose from, perhaps, there are only two broad options you need to choose and rest of the job is done by the game algorithm which calculates the total bet placed by you and if you agree by hitting the Spin, reels start rolling and offer you your landing screen in few seconds. Anyways, let us start picking them one by one; first you need to decide what you coins value should be. You can range your coins from one cent to five dollars which covers a wide range of options, after that you need to decide how many coins you want to play with. This slot supports up to two coins gameplay, hence you can either wager one or two coins before you hit the Spin.
To make your interaction faster, there are two more options: Bet One and Bet Max which auto selects the minimum and maximum bet for you and save you from picking each of option individually.
Extra Features
The USP of Pirate Slots is not the features it comes with, but the way each element of the game is decorated on the screen. You have the beautiful beach background covered by the game elements and all of them are beautifully designed with three dimensional visuals which eases your eyes to the max. If we talk about its extra features, like wild, scatter, free spin, or bonus round, there is nothing actually which could upset you but look at its theme and its wagering requirement which brings every aspiring slot player to its vicinity hence this is still the profitable slot for the GamesOS who could manage to add lots of new players into its database after the launch of Pirate Slots. You should definitely try it to feel the excitement playing a basic but effective slot game!