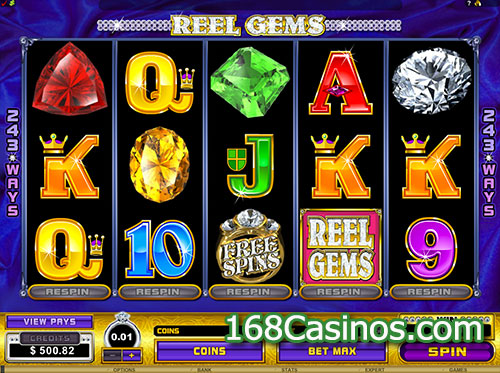 Precious stones have ever been our weakness and to capitalize this burning desire of mankind, Microgaming has developed an online video slot Reel Gems which is s five reels slot offering 243 ways to win.
This is, like expected, is a real gem in Microgaming enriched portfolio and for that reason developer has added every feature slot players always aspire for. The whole screen is so crafted that it looks like glittering panorama with each of the game symbol has a glittering effects that make you believe you are going to take home something worthy.
Although, background is not as effective as it should be since it only carry a Blue color with light diamond straps which is enough for a slot based on this theme. Anyways, presence of each slot element is quite obvious with all the navigational options at the bottom and reels matrix at the center and this traditional placement of game elements help every player understands all the features easily. The most shining part of the screen is its title row which is accompanied by the several diamonds glittering all the way to justify its theme.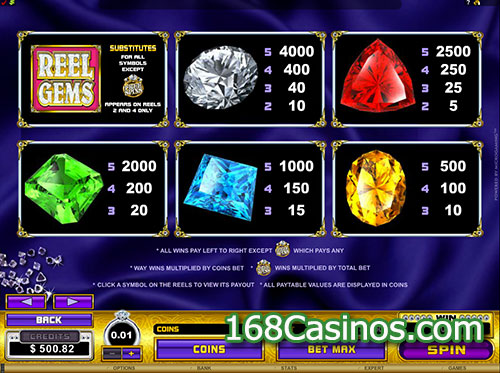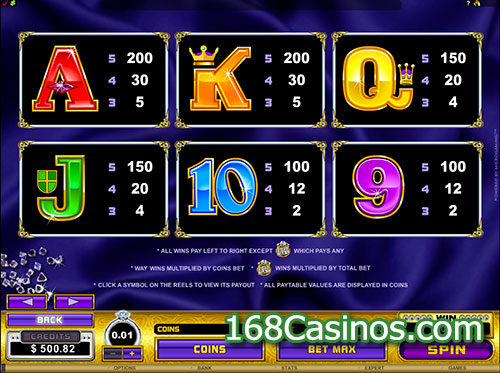 Reel Gems Slot Gameplay
Almost every Microgaming slot game carries a similar gameplay to help players enjoy their slots at max and this is not an exception either. As told, all the options are available at a single place; however, you only need to have a clear cut idea of how much you want to bet and how many rolls you are planning to play this game for. If agreed on the terms of the game start picking initial options starting left bottom to right side like coins values, number of coins, and lines you want to wager you money upon. If you want to check the paytable, there is a bottom at left bottom which takes you to another screen showing all the winnable combinations.
To cover a maximum range of slots players, Microgaming has put an option to range your bet from one cent to five dollars per spin which is more than enough for every class of players including high rollers.
Reel Gems Online Slot Free Spins
To make slots even more entertaining and rewarding developer has added several added features which help player complete a winning combination faster. Wild is on top of them along with the Scatter symbol, The Ring, which is one of them and if you have it for more than two times on the landing screen you are given up to 100 coins and if you have three scatters, you get fifteen free spins with a triple payout.
Apart from this, Microgaming has added a unique re-spin feature which is exclusively available online in this slot and this feature has a tag line that says, "Sometimes one more spin is all it takes to win." After every spin when you get your landing screen, re-spin button activates and asks you if you want to repeat the earlier roll with same options. Idea behind this option is that sometime players want to just repeat their attempt to get back the lost chance without repeating all the steps again.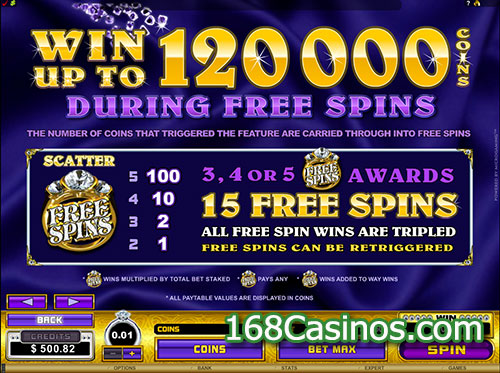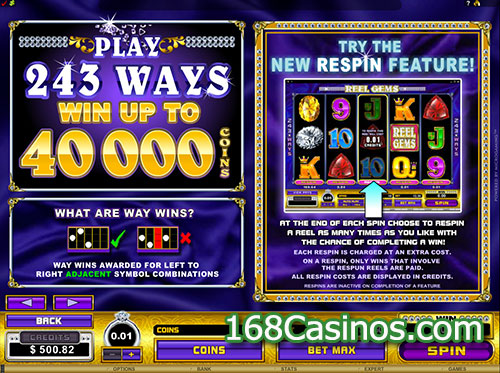 Try Your Luck with Reel Gems Slot at Jackpot City Casino