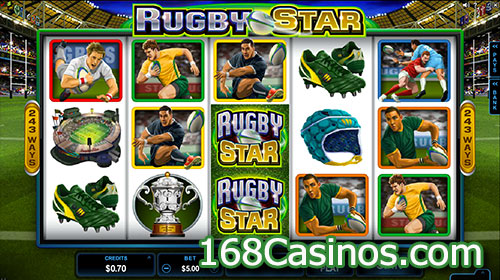 During every festive season, every casino games developer launched new versions of popular casino games and slot is the obvious name when it comes to point the most popular casino game. Being the top most developer Microgaming, has ever been the optimistic to encash each available opportunity and Rugby is one such sport which is a highly popular sport in North American states and to encash the popularity of Rugby world cup held in 2015, Microgaming decided to launch a slot variant named Rugby Star Slot to highlight the key points about the tourney and why fans should play its slot version.
Rugby Star Slot is a five reels online video slot game that offers 243 ways to win and if we talk about the audio and visuals of the game, it is just insane you can call it. To encapsulate the true sense of Rugby in an online slot screen, developer has used all sorts of beautiful elements including crispy and VFX visuals and a whole stadium background which tells what you are playing at the moment. Talking about the quality of visuals, they look like the stills of some kind of animation movie and offer a good ambience around the game to feel like you are inside the Rugby stadium.
To make its gameplay even more interesting, Microgaming has added several extra features to lure the players imaginations like wild symbol which works in their natural way and help players complete a winnable combination along with Rugby Ball scatter symbol which offers you up to twenty five free spins with a 10x multiplier if you could land minimum three of them anywhere on the landing screen.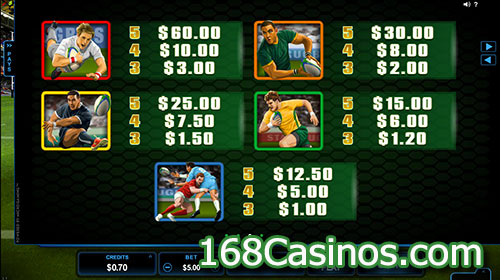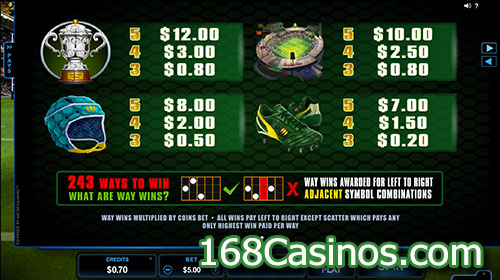 Rugby Star Slot Gameplay
Before we come to the gameplay of this highly popular slot and if developer has made any mistake in designing its navigational options, you first need to go through the minimum wagering requirement telling how much you need to carry to play its first roll.
Virtually none of the Microgaming slot has ever been heavy on players pocket and this is not an exception either you can range your coins from fifty cents to fifty dollars per spin which brings it into the comfortable range of every slot player.
Anyways, if you agree on the basic terms, start picking the coins and their values and then paylines you want to wager your money upon. Last step is to hit the Spin and reels start rolling telling you your landing screen in few seconds.
Extras
As told before, players can take advantage of its add-ons which are there to help you win more like wild symbol, scatter symbol, and a unique bonus round which offers you more entertaining options to keep you playing this slot.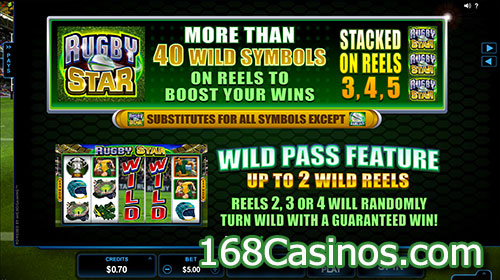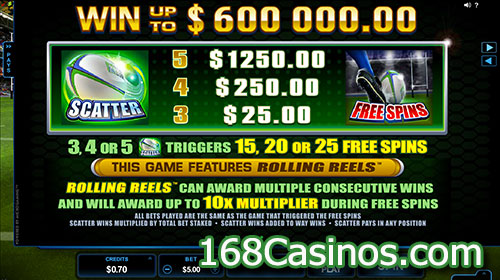 If you are a high roller, you can try its Auto Spin mode with predefined options to avoid interacting with the same options again and again.
Overall, Microgaming somehow succeeded in capitalizing Rugby world cup with this newly designed slot variant which became an instant hit in all Microgaming online casinos.

Try Your Luck with Rugby Star Slot at Jackpot City Casino