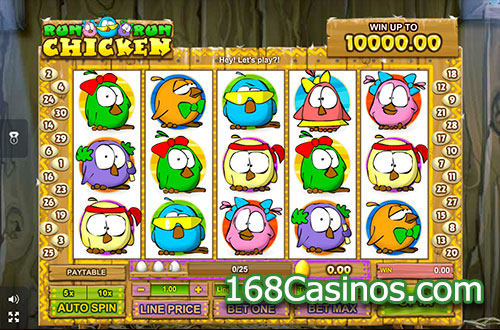 Run Chicken Run Slot is Chicken theme online video slot game developed by the house of GamesOS who are slowing taking a space into the list of top casino games developers.
Run Chicken Run Slot is as well a masterpiece of creativity thanks to the multi-dimensional visuals which look like to be made using three dimensional visuals and not to forget it is a five reels online slot that offers thirty paylines betting option to make every class of slot players happy and satisfied. To make every aspiring player comfortable to play it, developer has allowed anyone to check it without downloading it on their devices thanks to the flash play which helps players run this game on hosts of play devices without first installing it on their devices. As far game symbols are concerned, they are all birds with their own look and feel and when they all move along with the rolling reels it gives a pleasant experience to enjoy to the players.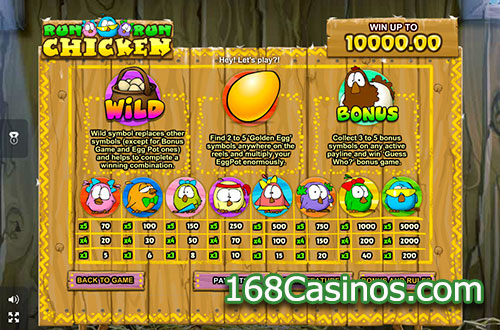 Run Chicken Run Slot Visual Appeal
Generally, every slot variant is supposed to carry the finest audio visuals carrying true three dimensional inputs but this slot is something different in that sense. Visuals are not truly three dimensional which offers a good feel but not the best and anyone believes it could have been lot better with the use of more advanced graphic processing technology. Home screen looks like to be a big cage containing all the birds and in front side, there is the reel matrix having all the symbols. At bottom area we have all the navigational options with all the usual buttons to avoid any confusion to the first timers. If we check the sound support with the visuals, it is good and pleasing; in fact, you can forget all shortcomings when listen the melodious sound when reels are rolling.
Wagering Requirements and Gameplay
In today's highly competitive online slot market, no developer designs a slot which carries loads of wagering requirements and this is not an exception either. Perhaps, GamesOS has taken care of every class of slot player who wants to play this slot game without having a big bankroll. Precisely speaking you can range your bets from as low as one cent to as high as five dollars which fits the budget of almost every class of slot player.
If you agree to play this slot for real money, start picking the basic options like your coins and their value, paylines and how many lines you want to wager you money upon. Last step is to hit the Spin and reels start rolling offering your landing screen in few seconds. If you want to enjoy its gameplay in deme mode, you can with practice coins without any opportunity to win some real cash!
Run Chicken Run Online Slot Extras
No slot is complete these days without hosts of helping support to make every player win something in every spin and this slot is not an exception. You have support of wild symbol which can replace any other symbol of the game to help you win more along with a bonus game which is even more rewarding and not to forget its free spin round which offers additional prize multiplier as well.