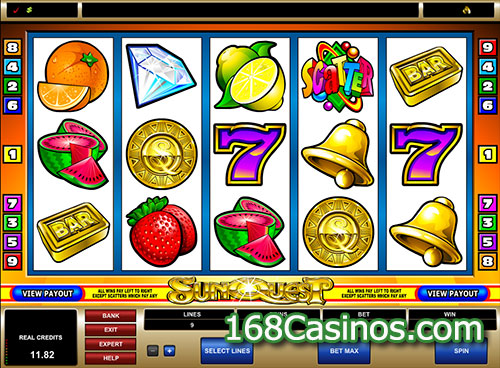 SunQuest Slot is a traditional styled online video slot developed by the House of Microgaming. SunQuest Slot has a five reels gameplay with lots of contemporary features to give goods of the both worlds. Moreover, it offers a descent nine paylines betting option which is enough to rewind your memories back to the time when online slots were introduced in online casinos.
Anyways, SunQuest Slot game also has the touch and flavor of its initial phase with game symbols that remind you the golden years of slot entertainment. Key symbols of the game are SunQuest symbol -which happens to be the wild one as well – Diamond, Seven, Bell, Bar, Watermelon, Orange, Lemon, Strawberry, and Cherry and like most of the contemporary slots, this slot pays you from left to right except the combination which is formed with the use of scatter symbols which is an added beauty of this game. If we look at its visual appeal and if Microgaming has made any mistake in that, then sorry, you would have to be disappointed as all the visuals truly encapsulate the initial phase of online slot with the use of soft three dimensional images which cool your eyes too.
Apart from appealing visuals, sound support is another beauty of the game which supplements the theme very well and takes us back in time whenever we hit the Spin or win something.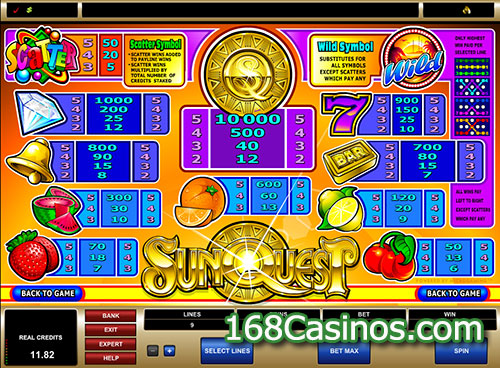 SunQuest Slot Gameplay
To offer the true flavor of traditional slots, Microgaming did not make any significant change in its gameplay so players could sense the excitement players used to have when playing this innovative casino game back in eighties. If you want to play this slot then be ready with a minimum of quarter cent as this is quarter game and developer has designed it so intentionally to expand its reach to a maximum number of aspiring players. Your very first step is to pick the coins value then number of lines you want to bet upon and then number of coins and last step is to hit the Spin. Reels will start rolling and offer you your landing screen in few seconds.
To expert users or those who want to check its extreme gameplay, there is a Bat Max button that auto selects the highest bet for you and if you are still not convinced there is an option to play in Demo Mode.
Payouts
Generally, whenever anyone talks about a traditional slot, it is believed it would not be offering any significant prize but this slot is an exception to this prevailing theory as here you can win as high as 10000 coins if you could land a dream landing screen every time. Apart from that, there is helping support of wild and Scatter symbols that work in their natural way and help you win more. Overall, this is a brilliant attempt to offer the golden era of slot entertainment to the players of today's generation should know why slot is considered the only mean to win exaggerate prizes at minimum cost!

Try Your Luck with SunQuest Slot at Blackjack Ballroom Casino