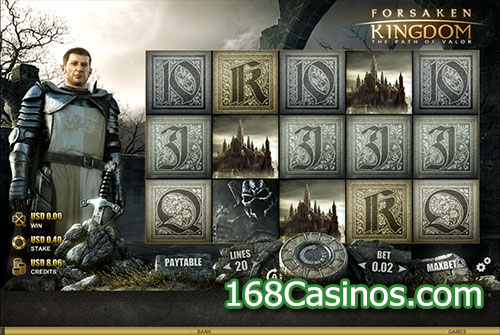 Forsaken Kingdom Slot is another Microgaming slot game which is based around the royal theme as it covers the Forsaken Kingdom and their glorious lifestyle. If you have ever played the game called Game of Thrones then you can call it the next installment of popular TV series which is transformed into a five reels slot and offers twenty paylines betting options.
Forsaken Kingdom Slot is a Microgaming product hence its visuals have to be at par with the requirements of the theme and righty so right from the moment this game launches you get the sense of gloom and misery of mediaeval life along with an animated King Arthur who is standing in the left of the reels. Background of the game is horrified with dark brooding sky, ruins, and sparse trees, and at the center there is a reel matrix that dances to your tune based upon your chosen options. First, let us talk about its build quality and how good Microgaming could deliver to the unusual theme and you won't be surprised to know it is a masterpiece in this respect.
All the game symbols are carefully designed using three dimensional visuals with a perfect and well synchronized sound support which is more than enough to feel you like a worrier. All the options are also there at the bottom on the wild rock to supplement the theme even better. Game symbols include alphabets along with four high paying symbols, like The Sword In The Stone, King Arthur, the Black Knight, and Camelot. If we talk about add-ons of the slot, there is a wild symbol, Lady Guinevere, which can only land on reel three and can replace any other symbol except the scatter one which is The Shield.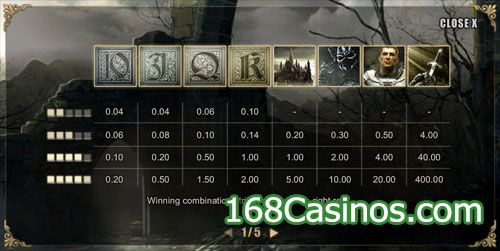 Forsaken Kingdom Slot Bonus Rounds
Forsaken Kingdom bonus rounds are unique in themselves and they start playing unusually too. If you look at the screen, you will see twelve positions which indicate the places on the round table around the 'Spin' button. During the gameplay, whenever you get two shield symbols on the reels one of these spaces is filled and when all the positions are so filled, you are taken to a Round Table with each position marked by a multiplier. This table then spins and where it stops, its multiplier will be yours.
Second bonus round is its free spins round which activates if you have three or more scatter symbols on the landing screen. However, be careful, there will be no multiplier so you will only get re-triggerable free spins.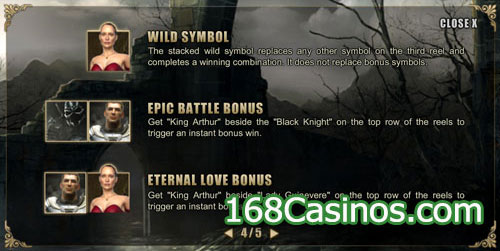 Forsaken Kingdom Video Slot Gameplay
Being a unusual theme based slot, every slot player thinks Forsaken Kingdom Slot would have many confusing option to choose from, but surprisingly, Microgaming has worked on each of its aspects in great detail hence all the interactive options are clearly visible at the bottom and they are as usual as you find in any other slot with a different visual appeal though. Overall, it is the next brilliant installment from the house of Microgaming after the success of Game of Thrones and you should play it to enjoy its excitement to the core.

Try Your Luck at Vegas Palms Casino